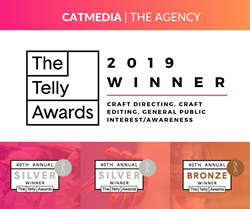 "The DeKalb County Fire Rescue is an outstanding and diverse fire department, that really offers so many opportunities for growth and development to its firefighters, and we wanted to create a video that conveyed that message." Brittany Hester - Director/Producer
TUCKER, Ga. (PRWEB) June 05, 2019
CATMEDIA announced today it's DeKalb County Fire Rescue Recruitment: Answer Your Calling video, has been named Best Online Commercial in Craft Editing, General Public Interest/Awareness, and Craft Directing in the 40th Annual Telly Awards. This will be the fifth Telly Award for CATMEDIA. The Telly Awards honors excellence in video and television across all screens and is judged by leaders from video platforms, television, streaming networks, production companies and including Vice, Vimeo, Hearst Digital Media, BuzzFeed, and A&E Networks.
"CATMEDIA is pushing the boundaries for video and creativity at the time when the industry is rapidly changing," said Sabrina Dridje, Managing Director of the Telly Awards. "This award is a tribute to the talent and vision of its creators and a celebration of the diversity of work being made today for all screens."
Today's winner's announcement caps a year-long celebration of the 40th Anniversary of The Telly Awards. Throughout 2018-2019, The Telly Awards celebrated four decades of honoring the video and television industry, whether through its inaugural international screening series or its online video interviews with industry experts. This year also saw the continued expansion of new categories further to the awards' recent initiative to rebuild the honors for the multi-screen era. New categories included serialized Branded Content and expanded Social Video categories. Last year, The Telly Awards attracted more than 12,000 entries from top video content producers including Condé Nast, Netflix, Refinery29, RadicalMedia, T Brand Studio, and Ogilvy & Mather.
The full list of the 40th Annual Telly Awards winners can be found at http://www.tellyawards.com/winners.
CATMEDIA is an award-winning Inc. 500 company based in Atlanta, Georgia. Founded in 1997, the company specializes in advertising, creative services, media production, program management, training, and human resource management. As a Women-Owned Small Business (WOSB), CATMEDIA provides world-class customer service and innovative solutions to government and commercial clients. Current CATMEDIA clients include Centers for Disease Control and Prevention (CDC), Federal Aviation Administration (FAA), Office of Personnel Management (OPM), and the Department of Veterans Affairs (VA).