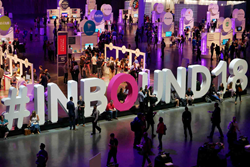 " Inbound is a great experience! I can't wait to put a lot of what as taught to great use in upcoming campaigns. The inbound conference is great for talking to people just like you and bouncing things off of one another and hear about others wins and fails." - Joi Gibbs, Digital Marketing Manager
ATLANTA, Ga. (PRWEB) September 19, 2018
Inbound is an annual business conference held in Boston, Massachusetts, hosted by Hubspot, a marketing automation platform. The four-day event focus's on helping you see the bigger picture with your current sales and marketing strategies.
Speakers at the four-day conference included Chimamanda Ngoza, Shonda Rhimes, Deepak Chopra, along with many other successful business men and women. CATMEDIA's team attended classes on a variety of topics such as The Future of Marketing, Google Snippets and SEO, and Content Remixing.
The team attended in hopes of using inbound marketing tools to grow their business. CATMEDIA is committed to always learning and seeks out exciting new strategies to further its business.
On attending Inbound 2018, CATMEDIA's Digital Marketing Manager, Joi Gibbs said, " Inbound is a great experience! I can't wait to put a lot of what as taught to great use in upcoming campaigns. The inbound conference is great for talking to people just like you and bouncing things off of one another and hear about others wins and fails."
This visit to Boston comes as CATMEDIA aims to increase its Advertising Agency business and streamline its process to better satisfy customers and clients alike. CATMEDIA offers first-rate creative marketing for clients in both the private and government fields, and the information acquired at Inbound will certainly bolster CATMEDIA's efforts in that endeavor.
To learn more about Inbound 2018, click here!