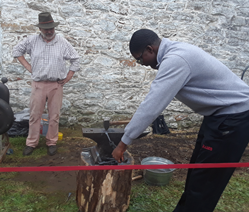 "We are thrilled to receive this funding, which will allow us to continue to offer our free programming to the public and are very grateful to Maryland Humanities for this vital operating support." - Elizabeth A. Comer, President of CFHS
THURMONT, Md. (PRWEB) January 20, 2023
The Catoctin Furnace Historical Society (CFHS) announces that it has received a SHINE (Strengthening the Humanities Investment in Nonprofits for Equity) grant from Maryland Humanities in the amount of $10,000. SHINE grants can be used for general operating expenses include salaries, rent, utilities, supplies, equipment, programs, and other expenses. These grants provide full flexibility to nonprofits, allowing them to determine where funds are most needed.
"With the SHINE Grants, we're aiming to lower barriers and provide funding in a more equitable way to organizations statewide," Lindsey Baker, Executive Director at Maryland Humanities, said in a press release. "Reporting from Grantmaking for Effective Organizations found that general operating support enables 'nonprofits to build a strong and sustainable infrastructure to provide programs and services that will have the greatest impact.' We're looking forward to help push the field forward in this direction."
Keith Stone, Vice Chair of the Board of Directors and Grants Committee Chair at Maryland Humanities, said in a press release, "While we're no longer providing program-specific support like we have through prior grant programs, we believe that the shift to general operating support will allow Maryland Humanities to build deeper, stronger relationships with our partners, each of which will focus on providing quality humanities programming to Marylanders."
"We are thrilled to receive this funding, which will allow us to continue to offer our free programming to the public and are very grateful to Maryland Humanities for this vital operating support," says Elizabeth A. Comer, President of CFHS.
The Catoctin Furnace Historical Society works to study, commemorate, preserve, and reveal the unique and rich history of this late 18th through 19th-century industrial village through the preservation of architecture, art and artistry, cultural traditions, cultural landscape, lifeways and foodways of the diverse workers. Evolving from a more than 45-year focus on the European American workers at the furnace a commitment to researching and interpreting the heritage of the enslaved at Catoctin is a primary focus, as is knowledge transfer as a reparative action. This agenda, manifest in programs such as Our Heritage At Work initiative for at-risk youth and the residential "Furnace Fellows," is undertaken to enrich young lives while restoring historic structures. Further, improvement of the lives of village residents through economic and social benefits emanating from the historic site and through participation in events is a goal of the society. This in turn, makes the historic village an attractive place to live, work and care about.
SHINE grants are funded by the State of Maryland via the Maryland Historical Trust.