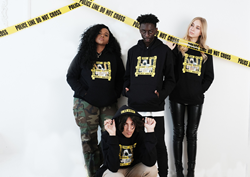 LOS ANGELES (PRWEB) January 27, 2020
When aspiring Culver City music producer/songwriter George Nieves designed his own hoodie, he had no idea that friends and strangers would admire his work, thus spawning Caution, a new, dope streetwear brand. "I made my first hoodie by hand," says Nieves, a sixteen-year-old student born and raised in Los Angeles, "and people really liked it, so I decided to go into business." His father, Sugaroo! Music founder/owner Michael Nieves, researched distributors and produced a small batch of 200 hoodies and t-shirts, available through the Caution-Wear website and Instagram feed. "I grew up in family businesses on both sides of my family," the elder Nieves offered. "So when I saw what a great idea George had it felt natural to start a new business with my son."
"It's all about the art of streetwear and creating innovative pieces," says the young designer. So far Caution is showcasing the original hoodie and tee-shirt. Both are a hundred percent cotton and made in Los Angles. "The tee is baggy streetwear, which includes the Caution logo and a stunning design on back, while the hoodie is thick and warn with an eye-capturing design." All items include free shipping.
About Caution-Wear
Caution-Wear began as a school project, George Nieves, a teen from LA, designed an original hoodie that attracted attention from friends and strangers, alike, thus, with guidance and assistance from his entrepreneur and business-owner father, Caution came to be, providing original streetwear designs to the world!
About Sugaroo! Music
Founded by Michael Nieves in January of 1999, Sugaroo! is a music licensing, marketing and management company that represents independent record labels, artists and music publishers for visual media licensing, including film, TV, advertising, theatrical trailers, video games, and beyond. Their Culver City offices also house a recording studio and Sugaroo! Records.
Contact:
Caution-Wear/Sugaroo! Music:
Michael Nieves
Phone: 310-717-0485
Email: michael@sugaroo.com
See https://caution-wear.co for more information
See http://sugaroo.com for more information