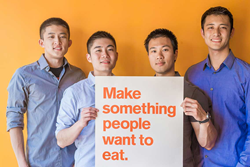 Our mission is to bring Philadelphia residents the best food from their favorite restaurants quickly and easily -- without adding any stress or costs to the restaurant. - Jason Wang, CEO
Philadelphia, PA (PRWEB) October 01, 2014
Today Caviar launched its leading online food order and delivery service for top-rated restaurants in Philadelphia. Caviar fills a critical void for consumers and restaurants by providing the easiest, fastest way to order the best-tasting food online for delivery to homes or businesses.
Working only with the best local establishments, Caviar provides diners with access to their favorite food, and provides restaurants with a new revenue source and comprehensive delivery infrastructure, including order management, quality control, logistics and its own, on-call drivers.
In Philadelphia, Caviar deliveries are free during the company's special introductory period, making it even easier to order from area favorites such as Federal Donuts, High Street on Market, Mercato, The Fat Ham, and Jose Garces' restaurants. The delivery fee is $4.99 per order for any number of menu items.
Caviar delivers to a very wide coverage area, including Center City, Northern Liberties/Fishtown, South Philly, and University City neighborhoods. The complete Philadelphia delivery area map is available here. Forty (40) top-rated restaurants are available for Caviar delivery at launch, with great new restaurants being added every week.
For The Love of Food
Caviar exists for the love of the food – the best-tasting and highest quality. Caviar's team of tastemakers embodies this ethos by conducting extensive taste testing and market research so that only the very best restaurant food is available for delivery. Only restaurants that meet the uncompromising standards of the Caviar tastemakers qualify for Caviar delivery. Nearly all restaurants must also earn at least a four-star Yelp rating to be considered for Caviar delivery.
"Philly has amazing restaurants, but very few of them deliver," said Jason Wang, CEO of Caviar. "Our mission is to bring Philly residents the best food from their favorite restaurants quickly and easily -- without adding any stress or costs to the restaurant."
As a valuable service for busy families and professionals with little time to shop for food and cook meals, Caviar brings delicious food into homes or businesses that customers can enjoy every day. Caviar is the only service of its kind to feature all of the following:

Only the top local restaurants offering the best-tasting, highest quality food
Full picture menus: hi-res photos of every item Caviar delivers
Fastest delivery: real-time GPS delivery tracking using its own drivers
No minimum order requirements
Customized orders with a one-hour delivery window.
The ability to order meals and schedule deliveries up to six days in advance.
How It Works – Fast and Easy
Unlike other services, Caviar customers first select the time period when they'd like a delivery -- whether it's an hour away or a week ahead. Customers can then browse Caviar's curated list of restaurants and photo menus, select menu items and add them to their cart. This saves valuable time sifting through restaurants that are not available within customers' desired delivery period. Each restaurant's available delivery times are listed on the restaurant pages at http://www.trycaviar.com/philadelphia.
Customers can also order as a group by sharing their shopping cart with friends, family, and co-workers. This is especially valuable for companies that use Caviar for catering or corporate meal programs. Unlike other delivery options, Caviar offers great restaurant choices and a high-touch experience to consumers and corporations alike.
Caviar's proactive Customer Success Team ensures deliveries happen smoothly, while dedicated account managers help plan corporate catering and dining needs, from team meetings to catered lunches for hundreds. And thanks to its real-time GPS delivery tracking, Caviar customers always know the location of their order throughout the process.
"There are lots of delivery services out there, but we've had such a good experience with Square that we felt anything Caviar did would be well-designed and easy to use," said Steve Cook, partner with Michael Solomonov of CookNSolo Restaurants, including Federal Donuts and Percy Street BBQ restaurants. "Caviar's focus on generating larger, corporate catering-style orders also made them stand out from the pack."
The Caviar Customer Success Team also distinguishes itself from other delivery services by being highly proactive, friendly, and responsive to customers at every single point of interaction. Customers can always talk live with Caviar by phone or get email responses to any question within minutes. The team's rapport with restaurant partners helps them customize orders to meet individual needs and requests.
Caviar services tens of thousands of orders every month and is rapidly expanding to various U.S. cities. A full FAQ is available here: https://www.trycaviar.com/help. The Caviar press kit, including downloadable photos of food, company founders and logos is available here: https://www.trycaviar.com/press.
About Caviar
Caviar, owned by Square, is the easiest way to order the best tasting food online for delivery from only the best local restaurants. Powered by advanced technology, Caviar's mission is to provide access to any city's best restaurants in the comfort of homes or businesses. Caviar provides restaurants with a new revenue source and a comprehensive delivery infrastructure. Caviar provides service in Boston, Chicago, New York (Manhattan and Uptown Manhattan), Los Angeles, Seattle, San Francisco (including East Bay and Peninsula), Washington D.C. and now, Philadelphia. For more information, please visit https://www.trycaviar.com/.
About Square, Inc.
Square helps anyone take care of their business. Square's complete register service is a full point of sale with tools for every part of running a business, from accepting credit cards to sales, inventory tracking, and small business financing. Customers also use Square Order, a new way to pre-order food and drinks for pickup and individuals use Cash, the easiest way to send and receive money. Founded in 2009 and headquartered in San Francisco, Square is currently available in the United States, Canada, and Japan.