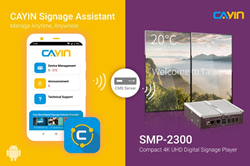 TAIPEI, Taiwan (PRWEB) March 27, 2020
CAYIN Technology rolls out SMP-2300, a fanless embedded digital signage player, and CAYIN Signage Assistant, an Android app, to meet the booming demand for large-scale display networks in chain stores, IoT and industry 4.0 applications. The new media player supports 4K ultra-high definition, dual LAN Ports and built-in firewall, which helps users organize high-quality, safe, and efficient digital signage networks. The new Android app empowers administrators to manage multiple digital signage projects via mobile devices anytime, anywhere.
SMP-2300 digital signage player supports 4K ultra-high definition, which makes graphics and media performance more immersive when broadcasting promotions. Users can choose from a wide variety of multimedia resources, such as YouTube videos, HTML5 web pages, Flash animations, photos, text tickers, as well as HD streaming video from network or through an external HDMI capture card.
Being an effective attention-grabbing medium, SMP-2300 is equipped with multiple HDMI outputs to control two displays either as 2 x 1 video wall or with separate contents, playlists, and schedules at the same time, making it a budget-friendly choice for more comprehensive commercial applications.
In recent years, countless system-hacking incidents have raised red flags over the security of digital signage networks. SMP-2300 uniquely supports dual LAN ports and a built-in firewall that offer extra protection against open network hazards, resolving one of the main digital media concerns today.
In response to the increasing need for instant monitoring system, CAYIN rolls out a new Android app, CAYIN Signage Assistant, empowering administrators to manage multiple digital signage projects via mobile devices anytime, anywhere. The app can access information of all CMS servers and SMP players, display a screenshot of the current playback content of all SMP players and signal abnormal connections for administrators to take immediate action.
"One of the key features that makes CAYIN's digital signage solutions stand out is its sophisticated and powerful management for large-scale display networks," Ravel Chi, GM of Global Sales Division of CAYIN Technology said. "In addition, the solution's open platform and rich software development kit unquestionably meet the growing demands for IoT and industry 4.0 applications."
More than a standalone media player, SMP-2300 can also be managed by CAYIN's CMS content management server in a client-server structure. CMS servers can be designated as main servers, site servers, or backup servers to easily create a multi-server environment. Each server manages up to 4000 SMP players simultaneously, along with an unlimited number of players in the full deployment.
For more products details, please visit CAYIN's website:
SMP-2300 Digital Signage Player: https://www.cayintech.com/digital-signage-products/player/smp-2300.html
CAYIN Signage Assistant: https://www.cayintech.com/digital-signage-products/software/signage_assistant.html
CAYIN Technology in Brief
CAYIN Technology is a 16-year professional digital signage solution and software developer from Taiwan. By offering a complete portfolio of appliance-based digital signage solutions, CAYIN dedicates itself to being a reliable partner to clients worldwide and has successfully set up various applications globally. In order to best facilitate the deployment of its products, the company also provides tailored services to satisfy the ever-growing market demand for almost limitless applications.
Media Contact
CAYIN Technology Co., Ltd.
Tel: +886-2-2595-1005
Fax: +886-2-2595-1050
Email: press@cayintech.com
Website: http://www.cayintech.com
Address: 3F., No. 57, Sec. 3, Zhongshan N. Rd., Zhongshan Dist., Taipei City 104, Taiwan