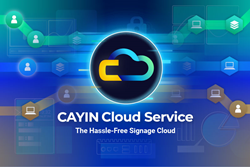 TAIPEI CITY, Taiwan (PRWEB) February 08, 2023
With the assistance of CAYIN's experienced IT administrators, users can quickly and easily install and maintain their CMS software, maximizing efficiency and cutting down on the learning curve. The service also provides monthly storage and traffic reports, as well as notifications for storage capacity limits, for added convenience.
The CAYIN Cloud Service offers users the flexibility to choose from different packages based on their cloud storage needs, data traffic, and virtual machines. Each package includes storage for 400 hours of video and over 1 million photos, with the option to upgrade to larger storage capacities. Customized packages are also available upon request.
The CAYIN Cloud Service is built on a stable and secure AWS escrow service, ensuring comprehensive security standards and compliance. The CMS system offers a dependable server, reducing the risk of security breaches. Users can also customize their server names for easy connectivity.
CMS-WS and CMS-SE servers are compatible with a wide range of players, devices, and hardware.
"CAYIN's Cloud Service is the solution for anyone looking to streamline their CMS installations and access the software from the cloud," said a spokesperson for CAYIN. "With customizable server names, flexible subscription options, and dependable security, users can take advantage of CAYIN's superior service and have a ready-to-use link within just a few days after purchase."
For more information, visit CMS-WS or CMS-SE, or contact CAYIN for a personalized solution.