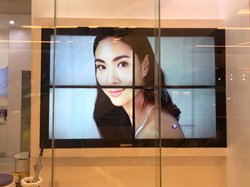 TAIPEI, Taiwan (PRWEB) October 15, 2020
To stand out in the competitive skincare industry, SkinStation, one of the leading skin clinics in the Philippines, implemented CAYIN's digital signage solution to raise brand awareness and attract more potential customers to boost the business.
Digital Signage is a better way to visualize and communicate the brand, product, and service since it can provide an engaging environment and reinvent the live experience. With CAYIN SMP-2200 digital signage player's brilliant function of supporting multimedia formats, SkinStation can play dynamic advertising contents including 4K UHD video, Flash® animation, HTML5 web page, image, music, and text ticker, to better present and explain the value of its brand, products, and services.
Besides, digital signage is the new medium of creating an immersive brand experience by making a memorable sensory experience, bringing the customer into a lasting and meaningful relationship with the brand. Furthermore, in comparison to the traditional poster, CAYIN's digital signage solution is a more cost-effective way to drive store traffic and attract new customers because it is more appealing, engaging, time-sensitive, and dynamic. Through CAYIN's digital signage solution, SkinStation communicates its brand, products, and services in a more engaging and fun way, which not only forges a solid customer-brand relationship but also attracts new potential clients as well.
Learn more about the complete case study at CAYIN's website: https://bit.ly/3lKtqAm
CAYIN Technology in Brief
CAYIN Technology is a 16-year professional digital signage solution and software developer from Taiwan. By offering a complete portfolio of appliance-based digital signage solutions, CAYIN dedicates itself to being a reliable partner to clients worldwide and has successfully set up various applications globally. In order to best facilitate the deployment of its products, the company also provides tailored services to satisfy the ever-growing market demand for almost limitless applications.
Media Contact
CAYIN Technology Co., Ltd.
Tel: +886-2-2595-1005
Fax: +886-2-2595-1050
Email: press@cayintech.com
Website: https://www.cayintech.com
Address: 3F., No. 57, Sec. 3, Zhongshan N. Rd., Zhongshan Dist., Taipei City 104, Taiwan