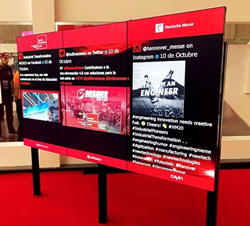 TAIPEI, Taiwan (PRWEB) September 17, 2020
Digital signage gradually plays a key role in enhancing the attendee experience of the trade fair. Hannover Messe, the world's leading trade fair of industrial technology, adopted CAYIN's digital signage solution to not only efficiently communicate with its visitors but also create a professional brand image to its trade fair.
CAYIN SMP-2210 digital signage player is equipped with two HDMI and one VGA outputs for three concurrent displays. And with its powerful feature of supporting multimedia contents such as 4K UHD video, news, and social media, the SMP-2210 digital signage player is the perfect fit for the real-time digital social wall application that boosts attendees' engagement and stimulates online word-of-mouth. Moreover, CAYIN's digital signage solution also offers interactive wayfinding and directory, providing visitors the latest information and an easy way to navigate.
CAYIN's digital signage solution is an unstoppable trend of future trade fairs, which can encourage visitors' engagement with real-time digital social wall and has an influential impact on creating a better attendee experience.
Learn more about the complete case study at CAYIN's website:
https://bit.ly/32D5AQz
CAYIN Technology in Brief
CAYIN Technology is a 16-year professional digital signage solution and software developer from Taiwan. By offering a complete portfolio of appliance-based digital signage solutions, CAYIN dedicates itself to being a reliable partner to clients worldwide and has successfully set up various applications globally. In order to best facilitate the deployment of its products, the company also provides tailored services to satisfy the ever-growing market demand for almost limitless applications.
Media Contact
CAYIN Technology Co., Ltd.
Tel: +886-2-2595-1005
Fax: +886-2-2595-1050
Email: press@cayintech.com
Website: https://www.cayintech.com
Address: 3F., No. 57, Sec. 3, Zhongshan N. Rd., Zhongshan Dist., Taipei City 104, Taiwan