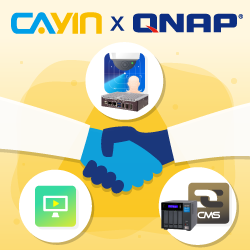 TAIPEI, Taiwan (PRWEB) October 27, 2020
CAYIN® Technology, a key player in the digital signage industry, is pleased to form a strategic partnership with QNAP® Systems, the leading company that provides cutting-edge Network-attached Storage (NAS), to launch a series of premium multimedia solutions integrated with QNAP products, such as CMS Station, MediaSign Player, and the facial detection solution.
To create more appealing and engaging digital signage, the booming demand for storing a large number of multimedia files is driving up the need for integration with a NAS (Network-attached Storage), featuring for its safe, reliable, and high-capacity storage space with a network connection.
The synergy of CAYIN CMS Station and QNAP NAS as a whole new smart signage solution largely improves the deployment and management efficiency for building a large-scale digital signage network. The fast and painless integration of installing CAYIN CMS Station via QNAP APP Center exempts users from the cost of compatibility verification during the system integration and speeds up project delivery. System integrators can either build up a SaaS environment for large-scale digital signage projects or set up as an on-premise service for a specific application with flexible licensing in response to dynamic business needs. The integration of CAYIN MediaSign Player and QNAP NAS also provides users with the best multimedia enjoyment with high-quality video playback, easy video converter, and convenient files transcoding.
Additionally, CAYIN® Technology and QNAP® Systems also team up to deliver a smart advertising solution, integrating CAYIN SMP digital signage player with QNAP facial recognition software-QVR Face Tiger, to engage target customers with personalized advertising contents based on their age, gender, and numbers of customers. This smart signage solution transforms digital signage into a strategic touchpoint for advertisers and marketers to increase customer engagement and purchase intention applicable to various industries.
The strategic alliance puts together the strongest strengths of CAYIN® Technology and QNAP® Systems, making the partnership a win-win for both customers and businesses. Not only do CAYIN's customers have more choices on digital signage servers with secure storage space to save a large number of high-resolution multimedia materials, but QNAP users also can easily enjoy professional digital signage solutions and various multimedia-related applications on existing platforms, enriching unlimited possibilities for NAS.
Visit CAYIN® Technology's website to discover more about smart signage solutions.
About QNAP Systems, Inc.
QNAP Systems, Inc., headquartered in Taipei, Taiwan, provides a comprehensive range of cutting-edge Network-attached Storage (NAS) and video surveillance solutions based on the principles of usability, high security, and flexible scalability. QNAP offers quality NAS products for home and business users, providing solutions for storage, backup/snapshot, virtualization, teamwork, multimedia, and more. QNAP envisions NAS as being more than simple storage, and has created many NAS-based innovations to encourage users to host and develop Internet of Things, artificial intelligence, and machine learning solutions on their QNAP NAS.
Media Contacts: marketing@qnap.com
About CAYIN Technology
CAYIN Technology is a 16-year professional digital signage solution and software developer from Taiwan. By offering a complete portfolio of appliance-based digital signage solutions, CAYIN dedicates itself to being a reliable partner to clients worldwide and has successfully set up various applications globally. In order to best facilitate the deployment of its products, the company also provides tailored services to satisfy the ever-growing market demand for almost limitless applications.
Media Contacts: press@cayintech.com