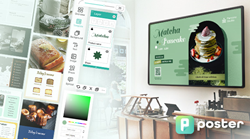 TAIPEI CITY, Taiwan (PRWEB) February 10, 2023
With CAYIN poster App, users can access thousands of ready-made poster templates and customize images, texts, and effects to create their desired design. Whether they're looking for an innovative and fresh style or a more business-professional look, CAYIN poster App has an option for every brand image.
The app also offers a variety of built-in features to optimize content creation. Template designs can be easily adjusted in size and switched between four viewing modes: mobile, square, portrait, and landscape. Additionally, users can import their own templates from the Cloud and apply them to digital signage for a cohesive brand image.
CAYIN poster App's built-in images bring life to content displays, or users can upload their own images for a personal touch. The app's intuitive interface makes adjusting image properties and adding animations simple and straightforward.
To further enhance the design process, CAYIN poster App allows users to upload fonts that best represent their brand or personal style. These fonts can be used anywhere on the template with textual elements, such as titles, contact forms, and menus. Text colours, transparency, line spacing, alignment, and animation effects can also be easily modified to meet the user's requirements.
CAYIN poster App is available for free download from CMS Servers, CMS-WS, CMS-SE, and CMS-60. The app is also integrated with CMS resource schedule optimization to provide convenient access to scheduling content.
About CAYIN Technology
CAYIN Technology is a leading provider of digital signage solutions and interactive technologies. The company's mission is to provide innovative and effective solutions to bring the digital signage industry to a new level.
For more information, please visit the CAYIN Technology website at https://www.cayintech.com/.
Media Contact: CAYIN Technology