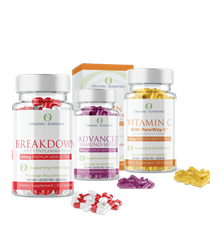 The COVID-19 product bundle offers a one-two punch of vitamin C as well as anti-inflammatory organic cbd capsules
MIAMI, Fla. (PRWEB) October 09, 2020
A strong immune system is important when preventing illnesses and diseases like the flu or even the common cold. To ensure a healthy immune system, it is vital to consume a healthy and balanced diet as well as consuming the proper nutrients. The COVID-19 product bundle offers a one-two punch of vitamin C as well as anti-inflammatory organic cbd capsules
The Advanced Vitamin C 300mg fuses the healing and restorative properties of vitamin C into a proprietary formula to produce a potent 12-hour sustained-release supplement. The product may help the body, mind, appearance, and emotions and it is packed with nutrients, bioflavonoids, and lipid suspended hemp. The recipe is rapidly digested and absorbed through the whole body by the endocannabinoid system.
The BREAKDOWN Anti-Inflammatory Capsules are designed to relieve pain symptoms such as muscle, nerve, or joint pain. They can also help the body with swelling and morning stiffness.
For more information on the COVID-19 product bundle, please visit
https://organic-scientific.com/boost-your-immune-system-with-our-new-bundle/
About Organic-Scientific
Organic-Scientific remains strong in its focus on delivering unbeatable quality through its product line. To this end, it has partnered with industry leaders and integrated the latest science and technology with established holistic solutions to give customers a truly integrative approach to their full well-being. Its CBD products are manufactured in the United States and use 100% pure organic hemp. For more information, please visit our website Organic-Scientific.com or visit the store at 7003 North Waterway Drive, Suite 218 Miami, FL 33155.