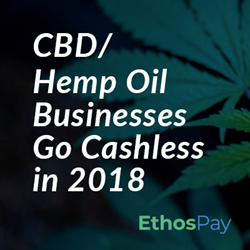 We have never witnessed an industry explode as quickly as the legal cannabis industry
LOS ANGELES (PRWEB) November 20, 2018
EthosPay, a specialist merchant service provider for high-risk industries, has announced a record number of businesses within the CBD/hemp oil industry seeking merchant processing solutions in 2018. Over the past nine months, the number of vendors selling non-psychoactive forms of marijuana seeking merchant processing solutions with EthosPay has increased by more than 400% in comparison with 2017.
The legalization of marijuana, both for recreational and medicinal uses, across many states in America is a major contributing factor to the increase in businesses seeking merchant accounts. To date, 33 states have legalized medicinal marijuana, representing almost a fifth of the US population. It is widely expected that other states will soon follow suit as a poll by Pew Research Center found that 62% of Americans, including 74% of millennials, said that they support the legalization of marijuana.
The legalization of marijuana has led to a huge growth in the number of businesses selling legal cannabis and associated products. By the end of 2019, the CBD/hemp oil industry is expected to be worth more than the firearms and ammunition industry. The same report states that if sales continue on their current trajectory, the industry will grow more than 200% between now and 2020. These factors have had a knock-on effect with businesses seeking urgent merchant processing solutions to deal with the demand from their customers.
"We have never witnessed an industry explode as quickly as the legal cannabis industry", said EthosPay Press Manager, Shea Robinson, "2018 was a significant year for supporters of legal marijuana and it looks as though 2019 will be another banner year. Currently, there are no signs of this rapid growth slowing down".
Supporting future projections about the growth of the CBD/hemp oil industry are numerous studies displaying the benefits of using various parts of the plant for medical purposes. Anxiety, depression, heart disease, pain relief, and sleeping disorders are a few of the many benefits cited by various recent studies. These studies help to project the industry as legitimate and are sure to contribute to the huge number of businesses operating within the industry.
About EthosPay
EthosPay is a dedicated merchant service provider that specializes in working with high-risk businesses. Accepting applications from businesses of any size and in any industry, EthosPay ensures that every merchant finds the perfect fit for their needs with a 99% approval rate. Chargeback mitigation software, high risk payment gateways, and offshore merchant processing solutions are just some of the services offered by EthosPay.