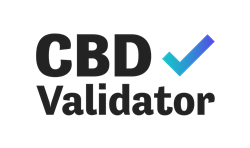 SAN FRANCISCO (PRWEB) September 17, 2020
CBD Validator, the go-to industry resource with the most unbiased, comprehensive information about CBD products on the market today, announces several key milestones, as it has surpassed 2,000 rated CBD oil products representing over 500 companies in its database. This is an increase of 54% of products since its launch in January 2020, and the company continues to add more products, with ongoing research and advancements. The company also announces three changes to its proprietary rating system with new enhancements to the technology platform that evaluates CBD oils based on specific criteria including price value, quality assurance, safety and manufacturers' transparency.
One new feature to the rating system includes the designation of ISO 17025 accredited for a testing laboratory in the evaluation. This aspect of independent testing focuses on Certificates of Analysis for CBD, pesticides and heavy metals. "In one of our recent reports, we found only 21% of CBD oils provide an independent analysis for CBD, pesticides and heavy metals. Also, many of the independent testing laboratories are not accredited by laboratory evaluation boards. The national standard is ISO 17025 accredited," notes Dr. Robert Portman, CEO of CBD Validator.
A second update relates to using the term "organic." CBD Validator will only designate those products that are USDA Certified Organic. As Dr. Portman notes, "There are actually no standards for using the term 'organic,' and many companies are misleading consumers by confirming that their products are organic. However, if a CBD product is USDA Certified Organic, it must be within specific regulatory criteria regarding how it's grown, extracted and manufactured.
The third update involves CBD oil pricing. CBD Validator's new rating system for pricing is based on a tiered analysis of its database of over 2,000 CBD oil products. This change involves the importance of price value as part of the consumer purchase decision, and the fact that pricing in the emerging CBD marketplace remains dynamic.
About CBD Advanced Science and CBD Validator
CBD Advanced Science was established to provide consumers with a much-needed resource to help make informed decisions when purchasing CBD products. The company is committed to providing consumers with unbiased information about the growing number of CBD products marketed today, with its CBD Validator digital tool. CBD Validator is the first comprehensive site that allows consumers to evaluate and compare 2000+ CBD oils and tinctures. Each product receives a CBD Validator Score based on how it meets key criteria outlined in the proprietary 50-point rating system. As an aggregator of product information, CBD Validator does not assess the validity of claims made by a manufacturer.
CBD Validator is a completely independent resource, not sponsored by any manufacturer of CBD products, and does not accept advertising or receive sales commissions from any manufacturers or marketers of CBD products.
For more information, please visit CBD Validator or follow us on LinkedIn, Instagram, Facebook and Twitter.