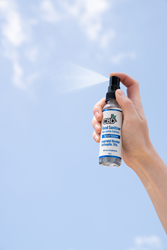 LOS ANGELES (PRWEB) April 07, 2020
Today, CBD industry leaders CBDfx announced they are turning their manufacturing prowess towards the mass creation of an item that's desperately needed: antiseptic hand sanitizer. CBDfx is now mass producing bottles of hand sanitizer and providing it to their customers for free when they shop on the company's website.
"It's time for those that can, to step up and help their communities impacted by COVID-19," stated CBDfx co-founder and CEO Ali Esmaili. "In the wake of a nationwide shortage of something as important as hand sanitizer, businesses like CBDfx with access to manufacturing facilities should contribute much-needed supplies like this. CBDfx always puts the health and wellness of our customers and community first, and we hope that this small gesture makes the lives of our customers a little bit easier during this difficult time."
CBDfx Hand Sanitizer is included free of charge with all orders on CBDfx.com through the end of April. The sanitizer follows FDA guidelines and contains 75% isopropyl alcohol which kills 99.9% of most illness causing germs. The sanitizer does not contain CBD.
About CBDfx: CBDfx is a Southern California-based company founded on providing high quality, organically sourced CBD products to customers in a wide variety of formats. CBDfx is a market leader in the CBD industry and was founded on the belief that everyone should have access to the layered functional benefits of CBD. CBDfx's mission is to empower both new and experienced CBD users by providing access to products that are always organic, refreshingly innovative, and thoughtfully crafted to provide the purest experience possible.