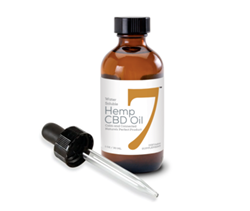 "This [innovation] dramatically increases the success and lowers the amount of CBD that's actually needed for people to see a good result," says McDonald.
Las Vegas, Nevada (PRWEB) October 13, 2017
PurhealthRX, a leading Health and Nutrition Company, is announcing the launch of 7® Hemp CBD Oil utilizing Purzorb™ technology. Applying the Purzorb™process to full spectrum CBD oil will revolutionize the rapidly growing CBD market by reducing the amount of CBD dose required and providing a CBD form that can be easily incorporated into liquid products, while reducing costs to end users.
The team of researchers and scientists behind the PurhealthRX Technology team have innovated a bio-absorbable oil based ingredient for formulating into CBD products. Purzorb™ technology mimics the way the digestive system absorbs oil-based nutrients. This means that Purseven CBD oil reaches the blood stream quicker and more effectively than any other CBD oil on the market.
"Purzorb technology enables the body to utilize a significantly greater amount of the full spectrum CBD oil that is ingested, which means that you don't have to take as much and you can get the benefits quicker," said Mike McDonald, President of PurhealthRX.
In fact, recent studies found that Purzorb™ formulated hemp oil had significantly more bioavailability than unformulated hemp. In short: Purseven Full Spectrum CBD Oil can get the same effect, quicker and at a much lower dose than that of traditional CBD oil based products. To illustrate this point, consider that most CBD oils on the market only offer bioavailability of six percent.
"If you're only getting six percent of something that you're taking, it's basically like you're going to the gas pump, buying 100 gallons of gas for your truck, but you would be pouring 94 gallons of gas onto the pavement and putting 6 gallons in your tank. Whereas with Purseven, you're putting 85 percent or better in the tank. It's a dramatic effect," McDonald said.
In addition, the onset of Purzorb™ full spectrum hemp oil often occurs within 15 – 30 minutes, which is much quicker than traditional CBD oil products which can take between 60 – 90 minutes to fully activate.
McDonald said the shorter absorption time has additional benefits. "This dramatically increases the success and lowers the amount of CBD that's actually needed for people to see a good result."
Currently, Purseven has made the product 7 Full Spectrum Hemp CBD Oil available in two flavors, Cinnamon and Wild Berry.
About PurHealthRX:
Founded in 2017, PurHealthRX has developed full spectrum hemp oil products that deliver hemp to the body the way nature intended it to be. Using a Proprietary Manufacturing Process, PurHealthRX is uniquely positioned in the market to become a key leader in the newly founded and rapidly growing Phytocannabinoid (CBD) market. The company is committed to delivering on a commercial scale, a water soluble full spectrum CBD ingredients with superior bioavailability, formulation ability and cost compared with CBD already on the market. For more information, please visit https://www.purseven.com/.
About PurzorbTM Technology:
The PurhealthRX Technology team has been manufacturing and marketing bio-absorbable oil-based ingredients and formulating them into products for the past six years. Purzorb™ is the technology for taking an oil based ingredient and making it bio-absorbable or "bioavailable" to the body without changing its form and structure. The Purzorb™ technology mimics the body's way to make oil based ingredients bioavailable.