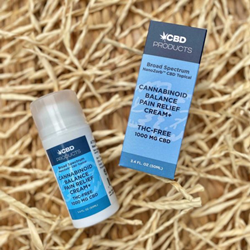 LA JOLLA, Calif. (PRWEB) November 11, 2020
For those feeling the effects of a tough workout, reeling after a long day at work, or just simply suffering from daily aches and pains, Cannabinoid Balance Pain Relief Cream+ could be the ideal solution.
Made with NanoZorb™ Technology in an FDA registered facility, this CBD cream from Cannabinoid Balance offers fast-acting, soothing relief. In fact, this nanotechnology will start to deliver all the goodness of Cannabinoid Balance Pain Relief Cream+ within just 2 minutes of application thanks to NanoZorb™ boosting absorption into the bloodstream to 90% vs 18% with other non-nano products.*
Like all Cannabinoid Balance products, Cannabinoid Balance Pain Relief Cream+ is:

Crafted from registered organic USA hemp
Non-THC / Non-GMO and CO2 Extracted
Free from Winterization, Decarboxylation, and pesticides
Formulated using proprietary NanoZorb™ Technology
Cannabinoid Balance products are all-natural and free of synthetics, sugar, binders, fillers, wax, shellac, talcum, and animal gelatin. It contains no yeast, wheat, corn, soy, gluten, salt, dairy, artificial flavors, sweeteners, colors, or preservatives.
*The statements and products referred to by Cannabinoid Balance have not been evaluated by the FDA.
NOTES TO THE EDITOR
CBD Products Inc. is a multi-channel, CBD publishing and retail company established in 2018 that owns and operates cbdproducts.com, cbdworldnews.com and cbdpet.com. In the last year CBD Products Inc. has welcomed more than 25,000 people to their sites and offered information and resources across more than 100,000 page views.
CBD Products Inc. is also the owner of Cannabinoid Balance. A line of consumer products that includes Cannabinoid Balance Original+, Cannabinoid Balance Sleep+, Cannabinoid Balance CBD Gummies+, Cannabinoid Balance Pain Relief Cream and Cannabinoid Balance Pet+. These products are sold via http://www.cbdproducts.com and include proprietary NanoZorb™ Technology designed to make Cannabinoid Balance products more effective and efficient.
It was founded by Anthony Tribunella in 2018. Anthony has worked in all aspects of the industry from growing to production, to publishing and retailing. With more than a decade of experience in CBD and a passion to see the industry become organized and honest, Anthony is rapidly becoming a shining light, thought leader and conscience for the industry he cares so deeply about.
For more information on CBD Products Inc. please visit http://www.cbdproducts.com or email contact@cbdproducts.com.