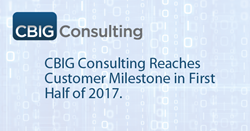 Chicago, IL (PRWEB) August 29, 2017
Global Business Intelligence firm CBIG Consulting confirmed it has reached an impressive 25% increase in its customer base for the first half of 2017.
Internal data indicated that large demand for advanced analytic solutions and cloud-based analytics was the primary driver for CBIG's improved numbers in clientele. CBIG's pure strategic management consulting services have also spurred an uptick in new customers, particularly with projects focused around data monetization.
Co-founder Don Arendarczyk said these types of services have gained traction this year because they respond more directly to current customer requirements. "Both our established customers and our newer clients have told us that these services have helped provide better direction and made a positive, bottom-line impact in a short amount of time," he added.
About CBIG Consulting:
CBIG Consulting is an international team of experts in Business Intelligence, Big Data Analytics, Data Warehousing, and Cloud-based Analytics platforms. Named a top BI and Big Data consulting firm by independent research organizations and publications, CBIG's management consultants, business analysts, data scientists, architects and engineers are seasoned professionals dedicated to the analytics space. CBIG works with global enterprises, mid-size businesses, and non-profit organizations in solving mission-critical reporting and analytical needs. CBIG is headquartered in the Chicago area and has additional offices in San Francisco, Boston, Denver, Austin, Raleigh, Irvine and Seattle in the U.S.; Sydney, Melbourne, Auckland and Singapore serving the Asia-Pacific region; and London serving the EMEA region. For more information, please visit http://www.cbigconsulting.com