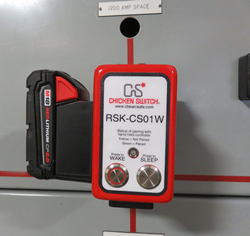 DENTON, Texas (PRWEB) October 30, 2019
CBS ArcSafe®, a leading manufacturer of remote racking and switching solutions for low- and medium-voltage switchgear, introduces the RSK-CS01W. This wireless remote switch kit (RSK) operates control switches with pistol-grip handles from up to 100 feet away. The new wireless format will be available for select Chicken Switch® models, in particular the RSK-CS01, RSK-CS03, and RSK-CS04.
Milwaukee Tool's M18 REDLITHIUM rechargeable batteries provide the power necessary to operate the wireless transmitter. Installation and operation do not require any modifications to existing electrical equipment. Connected wirelessly to the actuator, the handheld controller allows the operator to be positioned up to 100 feet outside the arc-flash hazard zone.
All RSK-CS01W models include the actuator, the wireless handheld controller with a 100-foot operating range, an M18 REDLITHIUM rechargeable battery, a battery charger, a durable and waterproof Pelican® carrying case, and an instruction manual.
All CBS ArcSafe products are manufactured in the United States at our facilities in Denton, TX, and Charleston, WV. For more information, visit CBSArcSafe.com or call 877-4-SAFETY.