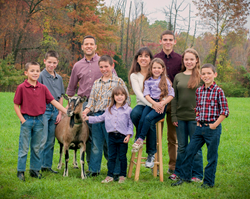 We chose a simple name, Goat Milk Stuff, since we planned to go beyond natural soaps. Now we also offer an array other products at GoatMilkStuff.com and we have other new products planned."
Indianapolis, Indiana (PRWEB) May 21, 2015
CBS-TV in Indianapolis featured PJ and Jim Jonas and their 8 home-schooled children, ages 7 to 18, who built Goat Milk Stuff from PJ's hobby on their Indiana farm into what is now a thriving natural soap and lotion company with customers across the USA and around the world.
Voice of America radio also profiled Goat Milk Stuff as Dr. Carole Lieberman said PJ "is as close to a super-mom as one can expect to find" during her globally broadcast Dr. Carole's Couch Show.
PJ, a former first place winner of StartUpNation.com's Leading Mom in Business, told Dave Barras, anchor of CBS affiliate WISH-TV's News 8 at Noon Show, how she founded Goat Milk Stuff.
"I taught myself to make natural soap so my family could avoid chemicals in store brands. Rather than water I used milk of our 2 dairy goats since it naturally contains vitamin A, selenium and alpha hydroxyl acids often in high-end beauty products. When Jim used the soap his fingers stopped cracking, so I knew we had something special with our moisturizing natural soaps. After our last pregnancy a few years later, I founded Goat Milk Stuff."
Jim told WISH-TV that when the family business started to grow he joined full time. Jim said, "We chose a simple name, Goat Milk Stuff, since we planned to go beyond natural soaps. Now we also offer an array other products at GoatMilkStuff.com, and we have other new products planned."
Goat Milk Stuff offers lotions, lip balms, bath bombs and laundry soap in addition to an array of natural goat milk soaps that moisturize and pamper skin. Many customers tell Goat Milk Stuff that the soaps help their sensitive skin or help with their psoriasis, eczema and other skin conditions.
The Jonas family also conducts farm tours for visitors to see how the goats are milked, how the soap is made and to enjoy the animals and sights around their 37-acre dairy farm. "We welcome visitors to our farm. Whether visiting Indiana to see the great Indianapolis 500 Race or any of our state's other attractions, we hope people stop by Goat Milk Stuff for our farm tour. We are about an hour south of Indianapolis in Scottsburg, at Exit 29 of I-65," said Jim.
On their farm, the family works together, as each of the children learn about business by helping in an age-appropriate way from milking goats to assisting in the office.
The Jonas family business maintains an active social media presence with a growing following at Facebook.com/GoatMilkStuff, YouTube.com/GoatMilkStuff and at Twitter.com/GoatMilkStuff.
Online at http://www.GoatMilkStuff.com, the Scottsburg, Indiana company makes and markets all-natural Goat Milk Stuff™ products including goat milk soaps, lip balms, lotions, bath bombs, laundry soap, soy candles and more. For media contact Brian Dobson at DobsonPR.com or bd(at)dobsonpr(dot)com.