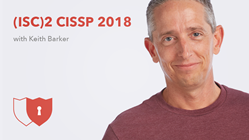 EUGENE, Ore. (PRWEB) January 28, 2019
CBT Nuggets announces the release of a new online video training course, (ISC)2 CISSP 2018.
In this intermediate-level, 95-video, eight-part course, CBT Nuggets trainers Keith Barker and Ben Finkel cover the eight security domains of the (ISC)2 CISSP 2018 certification exam:

Security and risk management
Asset security
Security architecture and engineering
Communication and network security
Identity and access management
Security assessment and testing
Security operations
Software development security
This course addresses the learning objectives of the 2018 (ISC)2 CISSP certification exam. The eight domains are weighted roughly equally on the exam.
"CISSP certification preparation is a mile wide, and 2 inches deep," Barker said. "Time management is really important for this course. You want to carve out plenty of time to enjoy these videos. Earning a CISSP can assist you in the design, implementation and management of a cybersecurity program."
Barker has worked in the world of IT since 1985, is a CISSP and holds a variety of professional and expert level certifications from other vendors including Palo Alto, Cisco, and VMware.
Finkel has worked in software development since 1996. He is a Google Certified Trainer. His areas of expertise include Microsoft Azure, Google Cloud, and various programming frameworks.
(ISC)2 CISSP is available as part of a CBT Nuggets subscription. Subscriptions are available for individuals or teams, and can be paid monthly, semi-annually, or yearly.
About CBT Nuggets: CBT Nuggets provides on-demand IT training for individuals and teams that is available 24/7, from any device.