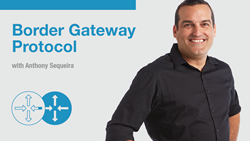 EUGENE, Ore. (PRWEB) October 30, 2018
CBT Nuggets announces the release of a new online video training course, Border Gateway Protocol (BGP).
The 12-video, intermediate course by Anthony Sequeira covers the many technical concepts of Border Gateway Protocol (BGP), spanning over six modules. Learners will encounter BGP in a wide range of IT certifications including Cisco, Juniper, Palo Alto, and AWS.
This training educates learners about the basic operations of this exterior gateway protocol, eBGP/iBGP configurations, prefix advertisement, multiprotocol BGP, and many advanced topics such as optimization and policy manipulation.
"Border Gateway Protocol is a key ingredient across many technologies in Data Center and Cloud and is tested in a vast number of IT Certifications," Sequeira said. "Our training at CBT Nuggets provides an unmatched deep dive into the many aspects of this important foundational routing protocol."
Anthony Sequeira has been a CBT Nuggets trainer since 2012 and holds a variety of Juniper, Cisco, Microsoft, and AWS certifications. He is also a CCIE in Routing and Switching. His earlier networking courses here at CBT Nuggets continue to be some of the top-rated courses in the library.
This Border Gateway Protocol course is available as part of a CBT Nuggets subscription. Subscriptions are available for individuals or teams, and can be paid monthly, semi-annually, or yearly.
About CBT Nuggets: CBT Nuggets provides on-demand IT training for individuals and teams that is available 24/7, from any device.