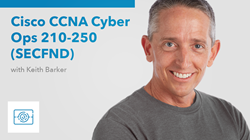 EUGENE, Ore. (PRWEB) September 07, 2018
CBT Nuggets announces the release of a new online video training course, Cisco CCNA Cyber Ops 210-250 (SECFND).
In the intermediate-level, 87-video course, Keith Barker prepares learners on how to detect and respond to cybersecurity threats. He covers basic security concepts, cryptography, host-based analysis, security monitoring, and attack methods.
"Cybersecurity attacks are evolving," Barker said. "Organizations need IT pros who can quickly detect threats, diagnose them, and then respond to them. Being able to protect organizations from threats makes your skills in demand."
This course prepares learners to take Cisco's 210-250 SECFND certification exam, one of two exams that comprise the CCNA Cyber Ops certification.
Barker has been a CBT Nuggets trainer since 2012 and holds numerous certifications, including Cisco CCIE Routing and Switching, Cisco CCIE Security, (ISC)2 CISSP, CompTIA Network+ and Security+, and VMware VCP5-DCV.
Cisco CCNA Cyber Ops 210-250 (SECFND) is available as part of a CBT Nuggets subscription. Subscriptions are available for individuals or teams, and can be paid monthly, semi-annually, or yearly.
About CBT Nuggets: CBT Nuggets provides on-demand IT training for individuals and teams that is available 24/7, from any device.