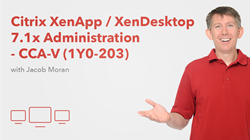 EUGENE, Ore. (PRWEB) November 12, 2018
CBT Nuggets announces the release of a new online video training course, Citrix XenApp/XenDesktop 7.1x Admin - CCA-V (1YO-203).
CBT Nuggets trainer Jacob Moran's 61-video, intermediate-level course covers Citrix XenApp, along with the latest version of XenDesktop. Learn to install, configure, and manage highly available XenApp and XenDesktop 7.1x environments.
Moran's latest course also helps you prepare for the Citrix Certified Associate in Virtualization certification exam.
"By going through this entire course together, you're going to learn how to correctly deploy the XenApp and XenDesktop infrastructure from Citrix in such a way that you're going to be able to increase the number of unique applications and desktops that you provide while lowering the cost to be able to maintain all of those applications and desktops while increasing the overall security," Moran said.
Jacob Moran has been a CBT Nuggets trainer since 2018 and holds numerous certifications from Microsoft, Cisco, and CompTIA. He has been a technical instructor since 1998.
Citrix XenApp/XenDesktop 7.1x Admin - CCA-V (1YO-203) is available as part of a CBT Nuggets subscription. Subscriptions are available for individuals or teams, and can be paid monthly, semi-annually, or yearly.
About CBT Nuggets: CBT Nuggets provides on-demand IT training for individuals and teams that is available 24/7, from any device.