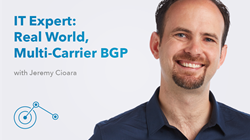 EUGENE, Ore. (PRWEB) December 06, 2018
CBT Nuggets announces a new online video training course, IT Expert: Real World, Multi-Carrier BGP.
During this 11-video, intermediate-level course, trainer Jeremy Cioara tackles multi-carrier issues and how using border gateway protocol (BGP) can help resolve those issues. Topics covered in this course include how BGP works, obtaining IP addresses, and configuring prefix list filters.
"BGP is a MASSIVE topic that many engineers are hesitant to touch, but sometimes the best way to get started is to take the first step," Cioara said, "What better step to take than actually implementing BGP together at a functional data center. There's no better way to learn BGP than to really do it."
IT Expert: Real World, Multi-Carrier BGP is the latest course in Cioara's IT Expert series. In this series, Cioara diverges from the typical CBT Nuggets certification training. Instead, he takes CBT Nuggets learners into actual job sites and demonstrates how to build network infrastructure and talks about relevant topics for IT professionals at all career levels.
Cioara has been involved in training and consulting for more than a decade, covering Cisco, Microsoft, Novell, and AWS technologies. He has been a CBT Nuggets trainer since 2003.
IT Expert: Real World, Multi-Carrier BGP is available as part of a CBT Nuggets subscription. Subscriptions are available for individuals or teams, and can be paid monthly, semi-annually, or yearly.
About CBT Nuggets: CBT Nuggets provides on-demand IT training for individuals and teams that is available 24/7, from any device.