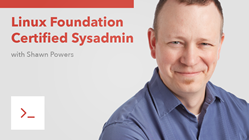 EUGENE, Ore. (PRWEB) December 10, 2018
CBT Nuggets announces the release of a new online video training course, Linux Foundation Certified Sysadmin.
In the 71-video, entry-level course, Shawn Powers covers the knowledge and skills learners need to develop their Linux system administration skills. Topics that Powers focuses on during the course include the command line, group management, and service configuration.
This course maps to the Linux Foundation Certified SysAdmin (LFCS) exam, making it an ideal training resource for learners.
Shawn Powers has been an IT trainer for more than a decade and joined CBT Nuggets in 2009. His areas of expertise include Linux, open source tools such as Chef and Puppet, and integrating many platforms into larger networks.
Linux Foundation Certified Sysadmin is available as part of a CBT Nuggets subscription. Subscriptions are available for individuals or teams, and can be paid monthly, semi-annually, or yearly.
About CBT Nuggets: CBT Nuggets provides on-demand IT training for individuals and teams that is available 24/7, from any device.