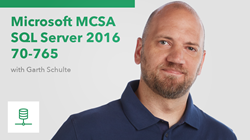 EUGENE, Ore. (PRWEB) August 21, 2018
CBT Nuggets announces the release of a new online video training course, Microsoft MCSA SQL Server 2016 70-765.
CBT Nuggets trainer Garth Schulte's 54-video, intermediate-level course covers Microsoft SQL Server 2016. It focuses on how to implement SQL in Azure, along with managing databases, instances, and storage.
This training also helps prepare learners for Microsoft's 70-765 exam with a hands-on virtual lab environment. The 70-765 exam is the second of two exams that must be passed to receive the MCSA: SQL 2016 Database Administration certification, which qualifies learners for positions like database administrator and infrastructure specialist.
"This is a very Azure-heavy section in a very Azure-heavy exam," Schulte said. "In this course, we're going to be using all the tools possible to interact with Azure."
Schulte brings 20 years of experience to his teaching and has mastered the development of virtual lab learning experiences. He holds a variety of certifications including Google Developer Expert, Google Certified Trainer, Microsoft MCSD, MCSD.NET, MCDBA, and MCSA.
Microsoft MCSA SQL Server 2016 70-765 is available as part of a CBT Nuggets subscription. Subscriptions are available for individuals or teams, and can be paid monthly, semi-annually, or yearly.
About CBT Nuggets: CBT Nuggets provides on-demand IT training for individuals and teams that is available 24/7, from any device.