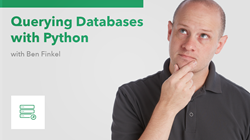 EUGENE, Ore. (PRWEB) August 23, 2018
CBT Nuggets announces the release of new online video training course, Querying Databases with Python.
In this 14-video, intermediate-level course, trainer Ben Finkel teaches learners how to use the Python programming language to query databases. Topics covered in this training include installing SQLite, creating and inserting data, and filtering queries. This course also includes several virtual labs to provide learners with more hands-on experience with Python.
"You'll learn the basics of connecting to and working with popular relational database technologies like SQLite and MySQL — using Python and SQLAlchemy," Finkel said. "Being able to work data in different ways makes you very valuable to employers."
Finkel has worked in software development since 1996. Before joining CBT Nuggets in 2014, he was a software engineer in the banking industry. He is a Google Certified Trainer. His areas of expertise include Microsoft Azure, Google Cloud, and various programming frameworks.
Querying Databases with Python is available as part of a CBT Nuggets subscription. Subscriptions are available for individuals or teams, and can be paid monthly, semi-annually, or yearly.
About CBT Nuggets: CBT Nuggets provides on-demand IT training for individuals and teams that is available 24/7, from any device.