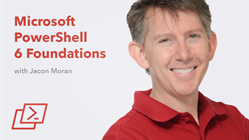 EUGENE, Ore. (PRWEB) February 13, 2019
CBT Nuggets announces the release of a new online video training course, Microsoft PowerShell 6 Foundations.
PowerShell Core is the latest version of Microsoft's powerful command-line shell, which allows users to automate tasks and manage operating systems. In this 32-video, entry-level course, CBT Nuggets trainer Jacob Moran focuses on how to use PowerShell Core to run jobs, script policies, and manage processes with commands, cmdlets, and aliases.
While this Microsoft PowerShell 6 Foundations course doesn't map directly to a Microsoft certification, learners need to know PowerShell to earn their MCSA: Windows Server 2016.
Since Microsoft made PowerShell Core free and open source in 2016, CBT Nuggets learners can follow along on their own installation or access CBT Nuggets Virtual Labs to manage Windows 10 with PowerShell Core.
Moran has been a CBT Nuggets trainer since 2018 and holds numerous certifications from Microsoft, Cisco, and CompTIA. He has been a technical instructor since 1998.
Microsoft PowerShell 6 Foundations is available as part of a CBT Nuggets subscription. Subscriptions are available for individuals or teams, and can be paid monthly, semi-annually, or yearly.
About CBT Nuggets: CBT Nuggets provides on-demand IT training for individuals and teams that is available 24/7, from any device.