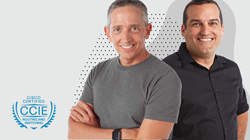 EUGENE, Ore. (PRWEB) December 03, 2018
CBT Nuggets announces a new set of video training courses branded as the Cisco CCIE RS Core Concepts.
Comprising over 40 hours of training, CBT Nuggets trainers Keith Barker, Anthony Sequeira, and Jeremy Cioara cover seven different areas of routing and switching technology, including the new and exciting Evolving Technologies section of content.
"The Cisco CCIE is considered the most challenging IT certification program in existence" Sequeira said. "As a result, CBT Nuggets has responded with a comprehensive set of videos that walk students through the key concepts and technologies they must master. These videos represent a key element of preparation for students. These videos, combined with hands-on practice, help students achieve the foundational knowledge required for success in the written and lab exams associated with CCIE."
Throughout this series, learners will study Layer 2 and Layer 3 technologies, as well as key routing and switching topics such as VPNs and other security mechanisms as well as key infrastructure services and components.
All seven topic domains in the Cisco CCIE RS Core Concepts series are available as part of a CBT Nuggets subscription. Subscriptions are available for individuals or teams, and can be paid monthly, semi-annually, or yearly.
About CBT Nuggets: CBT Nuggets provides on-demand IT training for individuals and teams that is available 24/7, from any device.