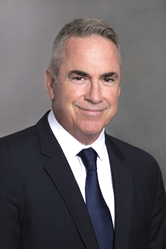 "Anthony's sales and management experience in the equipment finance industry will help us continue to build our Canadian operation."
HAMILTON, Ontario (PRWEB) August 20, 2019
CCG Equipment Finance Ltd. (CCG), an independent commercial equipment finance company, has hired Anthony Zambon to lead their Canadian operations. Mr. Zambon has over twenty-five years of experience in the equipment financing industry, including roles at CIT, GE Capital and most recently, Wells Fargo Equipment Finance. As Vice President and Canadian Division Leader, Mr. Zambon will be based out of Toronto and will oversee multiple origination channels for CCG, as well as being charged with continuing to develop the Canadian sales team.
"CCG has a great reputation in the Canadian equipment finance market and I'm happy to join this growing and successful team. I look forward to working with end-users and dealers across Canada to deliver unique financing solutions to the construction, manufacturing, transportation, and waste industries," noted Zambon.
"Anthony's sales and management experience in the equipment finance industry will help us continue to build our Canadian operation." stated Mark Lempko, SVP – Northeast and Canada Division. "He has a track record of success in managing and providing financing solutions and leading sales teams. We are excited to have Anthony join the CCG team."
About CCG Equipment Finance Ltd.
CCG Equipment Finance Limited, the Canadian equipment finance platform of Commercial Credit Group Inc. (CCG), a subsidiary of Commercial Credit, Inc. is an independent, commercial equipment finance company that provides secured loans and leases to small and mid-sized businesses in the construction, fleet transportation, machine tool and manufacturing and waste industries. CCG's sales force is located throughout North America and sources transactions through end-users, equipment vendors and manufacturers with typical transaction sizes ranging from $100,000 to $2,500,000. Since its inception in 2004, CCG has originated over $4 billion of finance receivables. CCG is headquartered in Charlotte, NC and operates full-service offices in Buffalo, NY and Naperville, IL. CCG Equipment Finance Limited services the Canadian Provinces of Ontario, west to British Columbia, from its Canadian headquarters in Hamilton, Ontario. Division Manufacturers Capital provides financing for the manufacturing and fabricating industries. For more information, please visit http://www.commercialcreditgroup.com.