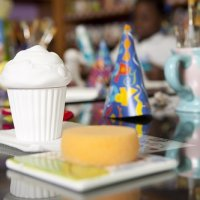 PYOP studios help party planners over-deliver, so that the only thing guests comment on and remember is how much fun they had!
BOYNTON BEACH, Fla. (PRWEB) January 15, 2019
For most people, the idea of a party in the middle of winter is exactly what they need to lift their spirits, and at least for a few hours forget about dreary things like the cold weather, post-holiday credit card bills, etc. But for party planners, parties can be stressful instead of exciting, because finding the ideal party destination is often easier said than done. This winter, the Contemporary Ceramic Studio Association (CCSA) is inviting party planners to avoid anxiety and have as much fun as their happy guests by heading to a local paint your own pottery (PYOP) studio.
According to the CCSA, the key reasons why PYOP studios are the perfect winter party destination include:

Parties can be customized to feature specific activities, such as pottery painting, clay hand building, jewelry making, glass fusing, candle making, board art, canvas and more.
PYOP studio owners have a wealth of experience hosting a variety of parties for various age groups, and are happy to provide creative suggestions and helpful advice.
All materials are provided by the PYOP studio, including brushes, paints, stencils, and so on. Party planners do not have to worry about guests who neglect to bring supplies. All that guests need to bring with them is their imagination and creativity.
PYOP studios are inclusive, non-competitive environments. They are a great place for people of all ages and artistic backgrounds — from absolute beginners to seasoned artisans — who want to create, connect and celebrate.
All instruction is provided by an experienced studio host who ensures that everyone is engaged and having fun — including party planners, who can roll up their sleeves and create something special alongside their guests vs. coordinate from the sidelines.
All activities take place in a safe and climate-controlled indoor environment, and PYOP studios are typically located in areas that offer ample free parking.
PYOP staff take care of all post-party clean-up, which means party planners can spend time having fun with their guests instead of tidying up.
"Party planners are the unheralded heroes and heroines who work behind-the-scenes to make sure everything is perfect," commented Dena Pearlman, CCSA's executive director. "Unfortunately though, they are like umpires in a baseball game. They only tend to get noticed when things go wrong, and then they are used as target practice by unhappy guests who have long memories. PYOP studios help party planners over-deliver, so that the only thing guests comment on and remember is how much fun they had!"
A full list of CCSA-member PYOP studios is available at http://www.paintyourownpottery.com.
For all other details, including media inquiries, contact Dena Pearlman at (888) 291-2272 or dena(at)ccsaonline.com.
Facebook users can also follow the CCSA at https://www.facebook.com/ccsapaintyourownpottery, or connect with PYOP fans across the world at https://www.facebook.com/Paint-Your-Own-Pottery-206166622756971/.
About the Contemporary Ceramic Studios Association
The Contemporary Ceramic Studios Association (CCSA) is a not-for-profit trade association serving the needs of ceramic and paint your own pottery studios and suppliers around the world. The Mission of the CCSA is to promote creativity and excitement about our industry and be a resource for our members. Whether you're a seasoned studio owner or someone who is thinking about opening your own Paint Your Own Pottery studio, this is the place to be. Learn more at http://www.ccsaonline.com.