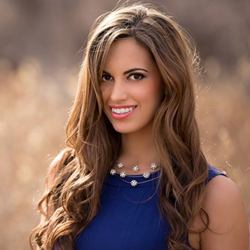 Together, we can make CCSD better for everyone - Danielle Ford
Las Vegas, Nevada (PRWEB) November 03, 2018
As the 2018 General Election draws closer, Las Vegas voters may have found their own Alexandria Ocasio-Cortez in Danielle Ford, a candidate for Clark County School Board, District F Trustee.
"Many voters here in Las Vegas are comparing Danielle Ford to Alexandria Ocasio-Cortez, and I, for one, think we're long overdue for a strong candidate willing to look past the corporate special interests and start making our kids the only special interest," stated Clark County voter Brian Dean.
Alexandria Ocasio-Cortez, the trailblazing New York congressional candidate took the establishment by storm earlier this year. She defeated Joe Crowley, a lifelong who dismissed Ocasio-Cortez as a blip on the screen. Much to his surprise and the shock of many special interests who funded his campaign, voters delivered a strong, unified message that change is real. Ocasio-Cortez became an instant sensation among voters looking for an outsider's perspective and a fresh set of eyes for chronic challenges facing their communities.
Indeed, Ocasio-Cortez and Danielle Ford share many similarities. Both entered the political arena without the horse-trading and promise-making that underscores the path typical politicians take to win elections. They have no allegiances to the business-as-usual politics that has corroded national politics for years and undermined schools in Clark County for a generations.
Without a doubt, Danielle Ford is Clark County's Alexandria. She is a strong, mission-focused woman with no ties to the special interests that prop up most campaigns. Insiders see that as a disadvantage. Clark County voters, however, are seeing it differently giving Ford the win in the primary elections. Like they've done to Alexandria, Danielle Ford is being derided for coming from outside the political machine. She's a former PTO mom, successful entrepreneur and host of Leading Las Vegas who decided to stop complaining and start campaigning.
Danielle Ford is gaining momentum and resonating with voters seeking a bold voice for education and her personal story offers voters a compelling reason: a native Las Vegan, Ford dropped out of high-school and is now running to improve the same school system that failed her. Ford is an unwavering advocate for a strong public school system and wants to end efforts to undermine teachers' efforts and students' education. She has an aggressive agenda that focuses on funding schools properly, decreasing class sizes, and raising teacher pay. Ford is also uniquely discussing the use of revenues from marijuana sales as an opportunity to invest directly in education.
This election, voters have a chance to get behind a candidate not shaped by the old mold. Danielle Ford is willing to talk about issues that many candidates want to ignore. She puts the status quo on the hot seat and is unwilling to shy away from tough issues. It's the 'Alexandria' effect: strong candidates ready to turn the political establishment on its ear. We've seen it happen in places like New York and California. Now were seeing Clark County voters embrace the chance to put kids ahead of special interests, by making Danielle Ford our next trustee for Clark County School Board, District F."
To learn more and find out how you can support Danielle Ford's campaign, visit votedanielleford.com
Source: MMT
Contact
Abi Wright
702-533-4532