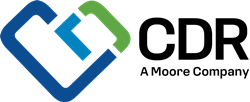 WASHINGTON (PRWEB) December 08, 2022
CDR, a Moore company, announces the celebration of their 40th year of serving clients to help fulfill their missions and improve the world. For the last 40 years, CDR has been a leader in direct response fundraising with nonprofit clients in numerous sectors, including health, human services, international relief, veteran services and conservation. Leveraging Moore products and services, CDR has demonstrated the power of integration and has helped clients thrive by utilizing an omnichannel approach that bolsters performance through consistent creative, branding and messaging.
"We are grateful for all those who have come before us and recognize we are standing on the shoulders of those who put their hearts and souls into making CDR what it is today," said Steve Harrison, president of CDR. "These past forty years have seen growth not just for the company, but in the direct-marketing industry itself. Our commitment to innovative technology, utilizing the latest in data advancements in the industry, and hiring the best and brightest have equipped us to continue to make a true impact and support our clients to do the same."
CDR is a full-service direct response fundraising agency comprised of over 100 industry experts. The company became a part of Moore in 2011 and underwent new branding earlier this year to support their mission to create transformational growth for the clients they serve. Since its inception in 1982, CDR has raised billions of dollars for their clients. CDR has worked with some of the most well-known nonprofit organizations in the world, including Wounded Warrior Project, Marine Toys for Tots Foundation and Dana-Farber Cancer Institute.
"CDR is the driving force behind some of our nation's most respected and successful fundraising programs. Their clients' successes are a direct result of CDR's drive to be an innovator in our industry and their 40th Anniversary is a celebration of that continual look to the future," said Gretchen Littlefield, chief executive officer of Moore. "As Moore continues to build our constituent experience platform for individualized marketing, having a team of strategists, capable of delivering omnichannel integration is critical. CDR's team makes complex marketing strategies simple."
To learn more about CDR, visit cdrfundraising.com.
About CDR
CDR, a Moore company, is an award-winning direct response fundraising agency that has created exponential revenue growth for nonprofit organizations for 40 years. CDR provides a full suite of fundraising services uniquely tailored to each of its nonprofit clients. The agency's areas of expertise include multichannel marketing, data-driven audience targeting and media planning, creative strategy and execution, brand strategy, research and analytics, and specialization in mid-level, sustainer, and catalog programs.
About Moore
Moore is a leading constituent experience management (CXM) company focused on the integration of the donor experience across all platforms, channels and devices. Moore is the largest marketing and fundraising company in North America serving the nonprofit industry with more than 4,100 employees across 42 locations. The company provides strategy, creative, production, media, data and analytic services powered by an ongoing investment in next-generation artificial intelligence and machine learning.