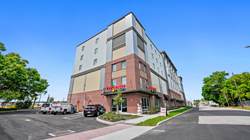 ORLANDO, Fla. (PRWEB) April 06, 2020
Fairlawn, Ohio-based Cedarwood Development, an affiliate of Cedarwood Companies, announced that it has completed construction of its first self storage facility in the United States, a 787 unit, 117,000-square-foot property located at 930 Sligh Boulevard in Orlando, Florida. The facility will be managed by US Storage Centers, a premier owner/operator of self storage facilities nationally which has over nine million rentable square feet under management.
Brian Grassa, Director of Development with Cedarwood states, "We are proud to offer this easily accessible and secure property to the businesses and residents of downtown Orlando. As with all our product types, we strive to develop best-in-class properties offering first rate service to our customers. This project represents the first of many new projects currently in our development pipeline."
Ideally located just south of downtown Orlando, this facility features climate-controlled units, passenger elevators, moving carts, 24-hour video surveillance and moving supplies.
"We are very excited to add our fourth facility to the greater Orlando market," said Charles Byerly, President and CEO of US Storage Centers. "Over the past several months, we've had a significant number of owners come onto our third-party platform. We are very fortunate to have one of the most seasoned self-storage management teams in the industry each with a unique background and creative way of looking at the pertinent drivers of the business. Our results continue to stand out in this very challenging environment."
About Cedarwood Companies
Since 1972, Cedarwood Development, has provided a full range of real estate development services to a wide array of clients. We have developed tens of millions of commercial and retail projects across the United States. Its team of development professionals have diverse experience in build-to-suit projects, office buildings, shopping centers, multifamily communities, resort hotels, senior living communities and self-storage projects. Through the Cedarwood affiliated companies, it offers full in-house services from concept to completion during the development, design, construction and management process.
About US Storage Centers
Founded 1985, US Storage Centers is an owner-operator of self storage facilities across the country. The Company is a fully integrated operator that develops, acquires and manages its portfolio—additionally, the Company provides third-party management services. As of March 2020, it has over ten million rentable square feet under management and employs approximately 400 people nationwide. US Storage Centers is a founding partner of the 501(c)3 Kure-It, a non-profit organization that raises money for underfunded cancer research, and Charity Storage, a 501(c)3 that uses vacant storage units to raise money for local charities. To date, Kure-It has raised over $9M and Charity Storage has raised over $500K.