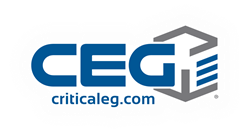 "We're honored that Mission Critical Magazine recognized educational value in our content. Inclusion in the Engineering+Mechanical Systems CEC further solidifies CEG's position as an expert in data center and critical environment best practices." -- Rob Huttemann, CEG SVP of Operations
GLASSBORO, N.J. (PRWEB) October 07, 2020
Critical Environments Group℠ (CEG), a leading provider of infrastructure optimization solutions for data centers and mission critical facilities, is pleased to announce that the Engineering+Mechanical Systems Continuing Education Center has developed a course based on the Company's article series – "Data Center Containment Best Practices that won't Bust Your Budget." The series was recently published in Mission Critical Magazine. After completing the Airflow Management course, data center and IT professionals will receive continuing education units (CEUs) and professional development hours (PDHs) that they need to maintain their license or credential.
"We're honored that Mission Critical Magazine recognized educational value in our content and viewpoints," says Rob Huttemann, Senior Vice President of Operations for CEG and co-author of the article series. "Inclusion in this highly regarded resource further solidifies CEG's position as an industry expert regarding data center and critical environment best practices."
The Engineering+Mechanical Systems Continuing Education Center allows professionals to earn free CEUs and PDHs and expand their industry experience. Users may choose from a variety of course topics and formats, including live and on-demand webinars, articles, and self-paced interactive courses that have been approved by AIA, IACET, and other accrediting bodies that may fulfill state-board certification requirements.
The "Understanding Airflow Management" course consists of four articles published in Mission Critical magazine earlier this year, and a podcast recorded in July. CEG co-authored the article series with vendor partners CPI, Upsite Technologies and RLE Technologies. The course's learning objectives include:

Understanding the benefits of an airflow containment strategy
Identifying containment best practices
Reviewing ASHRAE recommended operating temperatures
Understanding the importance of matching cooling capacity with IT load
Review of the typical steps for properly matching the cooling capacity of the data center with the IT load.
Upon successful completion of the course and quiz, professionals will earn one AIA LU/Elective credit, 0.1 IACET continuing education unit and one professional development hour. Review the full course description here.
About Critical Environments Group
Critical Environments Group (CEG) enables its clients to effectively manage, maintain and optimize their data centers and other IT environments. We're meeting the needs of this rapidly evolving industry by achieving value for channel partners or end users throughout the mission critical facility lifecycle.
In 2020 and 2018, CEG has been recognized by Inc. 5000 as one of America's fastest-growing private companies. CEG was also named by US Business News as the 2019 Top Critical Infrastructure Consultancy in the Eastern U.S. For more information about CEG and its intelligent solutions for critical environments, visit http://www.criticaleg.com.