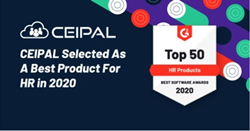 "Receiving this acknowledgement and having a 97% customer satisfaction rate are strong proof-points that we are providing our customers with the support and functionality they need to thrive in today's competitive environment."
ROCHESTER, N.Y. (PRWEB) April 30, 2020
CEIPAL, a SaaS platform for the front- and back-office business operations of staffing companies, today announced the company has been named to G2's annual list of Best Products for HR for 2020. G2 is the largest software marketplace and review platform in the world. G2 compares its annual honors to a genuine "People's Choice Awards" for technology companies, as rankings are based on authentic and timely reviews from real users. CEIPAL was chosen from a list of 77,381 different software products with data from more than one-million authentic, verified customer reviews across the site.
"This isn't a subjective list based on a few peoples' opinions," explains G2 CEO, Godard Abel. "With the highest traffic and engagement, largest selection of products and services, and highest quality data, G2 analyzes more than 4 million data points to determine which products and companies make the list."
CEIPAL earned their place on the list thanks to the company's quality product, ongoing monthly feature additions, strong support team, and customer-first process that maximizes the success of its software users. G2's Best of 2020 Awards evaluation was based on reviews left at G2.com between January 1, 2019 and March 3, 2020. All scores were calculated using G2's algorithms for satisfaction and market presence.
"As a company that is focused on doing what's best for their customers and the industry as a whole, the honor of CEIPAL being recognized as a best product for HR is a great accomplishment," said Sameer Penkalapati, Founder and CEO of CEIPAL. "Receiving this acknowledgement and having a 97% customer satisfaction rate are strong proof-points that we are providing our customers with the support and functionality they need to thrive in today's competitive environment."
CEIPAL was one of only four companies founded within the past five years to receive this distinction and the only provider of ATS for staffing companies on that list. CEIPAL has consistently ranked as a "High Performer" and "Industry Leader," noted for its use of next-generation technoloyg and exceptional VFM (Value For Money) offerings.
About CEIPAL
CEIPAL provides a SaaS platform that automates both the front- and back-office business operations of staffing companies. CEIPAL offers a complete workforce management platform, including a fully integrated applicant tracking system (ATS) and human resource information system (HRIS). Founded in 2015, CEIPAL now serves over 1,200 customers and 16,000 recruiters globally. For more information visit http://www.ceipal.com.
Notes to the editor:

###