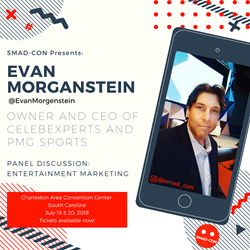 My entire career has been about trying things before they were done on a widespread basis. The business Jen Selter and I have created is exactly what still motivates me today. I hope to help motivate the next generation of visionaries at SMAD-CON. - Evan Morgenstein
RALEIGH, N.C. (PRWEB) July 18, 2018
CelebExperts President & CEO Evan Morgenstein will be in Charleston, South Carolina on Thursday, July 19th, to speak at the 2018 Social Media All Day Conference. He will share his thoughts on how influencers and brands collaborate to develop and leverage content for a successful social media strategy. Morgenstein has a diverse background in talent representation, brand activation, sponsorship procurement, celebrity acquisition, licensing, and other areas revolving around the utilization of and achieving the greatest impact from celebrity influence. SMAD-CON has been heralded as the Southeast's most collaborative social media conference by Forbes.
With over 20 years of experience in the business of sports, Morgenstein has represented over 400 celebrities and athletes through his agency Premier Management Group (PMG Sports) which he launched in 1996. He has created over $80 million worth of endorsement deals for top clients and brands in categories including activewear, fitness, food, beverage, pharmaceutical and many others.
Morgenstein has also been the brand architect behind the massively successful influencer Jen Selter's business empire. Morgenstein partnered with Selter and created this lifestyle brand that has included apparel, beauty care, hair care, fitness products, apps and consumer electronics deals to name a few. Selter and Morgenstein are credited with developing a business model that has been replicated by some of the biggest names in social media.
In 2012, Morgenstein launched his second business, CelebExperts, as a one-stop shop for brands looking to utilize celebrity influence to create brand awareness and develop successful traditional and social media marketing campaigns that generate huge ROI for the respective brands. Morgenstein and his team at CelebExperts have consulted for top brands including Microsoft, Under Armour, AT&T, McDonald's, Coca-Cola, Samsung, FitPlan, Toyota and many others. In addition, Morgenstein fills a need in the marketplace for startup and emerging brands to help them find their voice and disrupt their respective industries using the power of celebrity and expert marketing strategies.
"I am always honored when I am invited to participate at conferences and summits all over the world. It's an affirmation that someone thinks you're doing something right and in a very big way," said Morgenstein. "My entire career has been about trying things before they were done on a widespread basis. The business Jen Selter and I have created is exactly what still motivates me today. I hope to help motivate the next generation of visionaries at SMAD-CON."
About CelebExperts
CelebExperts is a leading consulting firm dedicated to demystifying the celebrity acquisition process and finding creative solutions to effectively market your brand, leveraging the power of a celebrity. For more information on how your brand could utilize a celebrity talent as a spokesperson for upcoming marketing campaigns, please contact our team at consulting(at)celebexperts(dot)com.
About Premier Management Group
Premier Management Group is an elite sports marketing agency with the goal to create a space in the industry that is completely unique through superior creativity and innovation. PMG has set out to provide each of its clients with the same level of professional representation and service. Additionally, PMG is an industry leader in providing corporate consulting services and treats each client, whether an athlete or corporation, with an added personal touch. For more information, visit our website at http://www.pmgsports.com or email evan(at)pmgsports(dot)com.