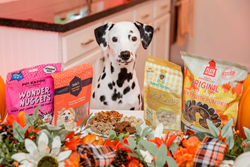 Feel good about honoring your dogs alongside the rest of your family, and give them a seat at the table this Thanksgiving.
LOS ANGELES (PRWEB) November 04, 2021
According to a 2019 OnePoll study conducted with over 2,000 pet owners, 34% of people preferred being with their dogs instead of their own children. This type of preferential treatment can make Thanksgiving awkward, but it doesn't have to. Enter HonestPets.co, a pet-first virtual marketplace focused on helping all humans connect with their dogs, through real food, better toys, and superior training gear. This year they have created a special "farm-to-dogbowl" Thanksgiving Bundle - packed with delicious and nutritious turkey-day treats for your dogs, allowing you to feel good about honoring your dogs alongside the rest of your family, and give them a seat at the table this Thanksgiving.
"After I got out of the service I was diagnosed with PTSD, but finding and adopting my dog Nala changed my life," Honest Pets Co. founder Ezra Shore explains the importance of thanking our dogs. "I had seen and heard about plenty of working and service dogs risking their lives for country and owner, but to see this regular, family dog do all these amazing things for me, with no expectation of anything in return, it was just so humbling. I wanted to serve her as much as she was serving me."
Thus, Ezra came up with the ultimate way to show our dogs thanks - a Thanksgiving Bundle, so you can treat your best bud to a special, hand-crafted Thanksgiving meal they truly deserve. The bundle features products such as chewy Nala's Sweet Potato Treats, salty-sweet Turkey and Cranberry Wonder Nuggets, protein-rich Real Strips Turkey With Pumpkin Meat Bar Dog Treats, and Pumpkin & Kale Superfood Snacks for some antioxidant-powered greens.
Longtime fans are already excited and have even begun talking on social media about their plans to do special table settings for their dogs. Honest Pets Co. ambassador Taylor Starcher, a pet photographer (@tstarchdog), says she can't wait to create a special Thanksgiving for her furry friends, Teddy and Max.
Best yet, every purchase of the Thanksgiving Bundle, just like all purchases on the website, helps the company pay it forward to support fellow working dogs and their first responder owners. Honest Pets Co. supports veterans, service dogs, and first responders around the world. They are doing this by donating a portion of all of their proceeds to the following non-profit for the month of November: RESCUE 22 FOUNDATION.
Honest Pets Co. Website: https://bit.ly/3BI5a9y
Thanksgiving Bundle: https://bit.ly/3k28hDy
Rescue22 Foundation: https://bit.ly/3bJppsV
TStarchdog's Instagram: https://bit.ly/3nNl0uQ
For photos click here. For interview or review unit requests, please contact agency.