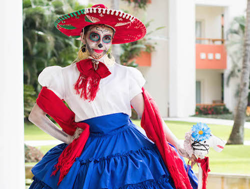 history behind Mexican arts, free virtual Zoom backgrounds, recipes for traditional Mexican dishes with seasonal ingredients, socially distanced onsite activities, and more
PUERTO VALLARTA, Mexico (PRWEB) October 26, 2020
This year, Mexico's Velas Resorts is helping travelers at home host their own Día de Los Muertos (Day of the Dead) celebration by offering a lineup of festive at-home activities. The award-winning resort collection, with properties in Los Cabos, Riviera Maya, Riviera Nayarit, and Puerto Vallarta, shares history behind Mexican arts, free virtual Zoom backgrounds, recipes for traditional Mexican dishes with seasonal ingredients, and more.
Celebrated all across Mexico, Día de Los Muertos (Nov 1 and 2) is a Mexican holiday created to honor and remember deceased loved ones. Traditionally, people will celebrate by preparing food and drinks and decorate ofrendas, or elaborate altars, created upon loved one's gravesites in hopes to be reunited with them again.
Alebrijes: Mexican Spirit Animals:
Travelers at home can learn about traditional Mexican crafts such as Alebrijes, or Mexican folk art sculptures. Typically made of cardboard, wood, or clay, these mystical figurines with deep-rooted history have inspired creativity from around the world, including in modern cinema. In fact, alebrijes were recently depicted as "spirit animals" in the Disney movie, Coco. Additionally, kids visiting Grand Velas Los Cabos, Grand Velas Riviera Maya, and Grand Velas Riviera Nayarit can create their own Alebrije with the resorts' exclusive Alebrijes painting class in its Kids' Club. More information about their history and cultural significance can be found here.
Festive Backgrounds:
Jazz up a virtual work meeting or friendly video happy hour with a new Día de Los Muertos Zoom background. 'Scapes range from Catrina makeup inspiration to a colorfully decorated ofrenda.
Traditional Food Recipes:
Foodies can get a taste of traditional Día de Los Muertos dishes as well as seasonal Mexican recipes thanks to Grand Velas Riviera Maya. The resort shares recipes for Cempasúchil Tea (Dead Tea) and its signature Energy Bites made with a special ingredient: pumpkin pie spice here as well as Oaxaca-style Pan de Muertos (Dead Bread) below.
Oaxaca-Style Pan de Muertos (Dead Bread)
Ingredients:

4 ½ C Flour
6 Tbsp. Sugar
½ C Butter, Melted
3 Eggs
2 ½ tsp. Anise
½ C Warm water
1/3 C Yeast
2 ½ tsp. Salt
2 tbsp. Egg yolk
Preparation:
1. Preheat oven to 375 °F.
2. Dissolve yeast in warm water; then add the flour and sugar.
3. Knead well and add the butter, salt, eggs and anise.
4. Mix and let it rest for 20 minutes.
5. Knead to remove the air and give it the shape.
6. Grease a baking dish and place the dough on the tray.
7. Varnish with a beaten egg yolk and sprinkle aniseed grains on top. Bake 40 minutes.
Onsite 'Día de Los Muertos' Activities at Velas Resorts:
In addition to the lineup of virtual offerings, Velas Resorts is hosting a number of festive activities for guests staying at its properties during the holiday. Kids visiting at Grand Velas Riviera Nayarit can create their own mask with foam and decorate it with glitter and other materials. Alternatively, they can have their face painted like a Catrina, zombie, witch, ghost, mummy, or another character. On October 31st, kids can pick out a costume from the resort's Kids' Club and embark on a trick-or-treating adventure around the hotel. At Grand Velas Los Cabos, guests can enjoy a Dia de los Muertos-inspired dinner with specialty Mexican dishes at the resort's Frida restaurant. Resort staff members will also be able to celebrate by having their face painted like a Catrina as well.
For reservations or more information, call 1-888-407-4869, email reservations@velasresorts.com or visit https://www.velasresorts.com.
About Velas Resorts
Velas Resorts in Riviera Maya, Puerto Vallarta, Riviera Nayarit, and Los Cabos have earned 56 AAA Diamonds, including the prestigious Five Diamond Award. Other esteemed international awards for services and facilities include Virtuoso's Best Family Program, Forbes Travel Guide Five Star Award for spa, and TripAdvisor's Top Hotels of the World, among others. Offering unparalleled all-inclusive experiences, properties include Grand Velas in Los Cabos, with dramatic ocean views and unique spaces infusing every area of the resort; Grand Velas Riviera Nayarit, which enjoys a long stretch of pristine beach and a dramatic backdrop of the Sierra Madre mountains; and Grand Velas Riviera Maya, offering a sophisticated resort experience in the Caribbean with jungle and beach settings. In Puerto Vallarta, Casa Velas is a boutique adults-only hotel and beach club located on the Marina Vallarta Golf Course, and Velas Vallarta, a family-friendly all suites resort and spa located on Banderas Bay. Mar del Cabo, a boutique hotel on Mexico's Baja Peninsula, opened in December 2018 as its only European Plan offering. Eduardo Vela Ruiz, founder and president of Velas Resorts, operates Velas Resorts with brother Juan Vela, vice president of Velas Resorts, by his side. Explore tips, recipes, lifestyle and travel trends, and the latest news about Velas Resorts on the digital mag: http://www.velasmagazine.com.