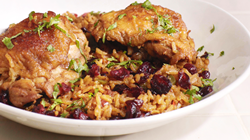 A half cup of dried cranberries is equivalent to a one-cup serving of fresh fruit.
WAREHAM, Mass. (PRWEB) January 13, 2021
January is widely celebrated as National Dried Fruit month and accordingly, there's no better time to enjoy the dried version of America's Original Superfruit®, cranberries.
Sweetened dried cranberries (SDCs) are produced by infusing a sweetener into sliced or whole fresh cranberries until a specific equilibrate Brix range is reached (this amount varies by producer). The product is then dried to moisture specification and lightly sprayed with oil to prevent clumping. The result is a product that is firm yet tender in texture, as well as sweet and tart in flavor. Brands sometimes sweeten with other fruit juices to create flavored SDCs such as cherry, strawberry, blueberry and orange.
Some brands do produce unsweetened dried cranberries. However, dried cranberries are usually sweetened because, unlike other berries, cranberries are naturally low in sugar and high in acidity (like lemons), making them especially tart. Adding a sweetener makes them more palatable so that their unique health benefits can be enjoyed. In fact, the 2020-2025 Dietary Guidelines for Americans allow for a limited amount of added sugar to improve the palatability of some nutrient-dense foods (e.g. cranberries) as long as calories from added sugars do not exceed 10 percent per day.
Dried cranberries are fat free, cholesterol free and sodium free. A serving of dried cranberries contains 7.57 percent of the recommended daily value of dietary fiber. A half cup of dried cranberries is equivalent to a one-cup serving of fresh fruit.
SDCs add color, texture and a bold sweet and tart flavor to a variety of recipes. Here are just a few ways to incorporate this versatile ingredient into your snacks, desserts and meals:

Grab a handful right out of the package (doesn't get much easier than this!)
Add to your favorite trail mix or homemade granola
Combine with oatmeal or yogurt for a flavorful punch
Spread peanut butter onto celery sticks and top with dried cranberries (ladybugs on a log!)
Mix with chicken salad for a delicious twist on an old standby
Combine with your favorite rice dish for a pop of color and flavor
Top your favorite salad with this tart treat
Pair with brie and other soft cheese for an appetizing hors d'oeuvre
For more recipe ideas, visit https://www.uscranberries.com/recipe/. Dried cranberries are on the USDA Foods Available List and credit at twice their volume toward school foodservice fruit servings. For scaled-up foodservice recipes, visit https://www.uscranberries.com/foodservice/.
About the Cranberry Marketing Committee
The Cranberry Marketing Committee (CMC) promotes the worldwide use and consumption of US-grown cranberries. The CMC was established as a Federal Marketing Order in 1962 to ensure a stable, orderly supply of good quality product. Follow @USCranberries on Facebook, Twitter and Instagram.