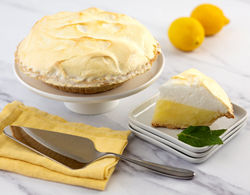 We're proud to offer a complete range of gifts that can be sent to loved ones
NEW YORK (PRWEB) May 18, 2021
BakeMeAWish.com, the leading national online gourmet gifting company, announced their new lineup of fresh-baked gourmet pies for the Fourth of July holiday and to enjoy throughout the summer season. The new lineup of flavorful pies include Key Lime, Lemon Meringue, Banana Cream, Coconut Cream, as well as best selling favorites, such as tasty blueberry, strawberry, and sour cherry fruit pies.
Bake Me a Wish's fresh-baked classic pies are a great addition to your Fourth of July family barbecue or to enjoy at your next summer picnic, providing a cool delicious treat in the hot summer months. For all the last-minute gift-givers BakeMeAWish.com guarantees next-day delivery, ensuring that you are able to send a cool slice of pie to those far away.
Fourth of July and additional summer favorites include:

Key Lime Pie ($55)
Lemon Meringue Pie ($52)
Banana Cream Pie ($52)
Coconut Cream Pie ($52)
Scrumptious fruit pies such as bountiful blueberry, strawberry, and sour cherry ($45)
"The Fourth of July is a time to join in laughter and love with family," said Joseph Dornoff, President of Bake Me A Wish!, "We're proud to offer a complete range of gifts that can be sent to loved ones even if you're far away this summer."
To order a gourmet bakery gift for family and friends for the holidays please visit http://www.bakemeawish.com.
On social media, visit @BakeMeAWish
Hashtags: #bakemeawish
About Bake Me A Wish!
Bake Me A Wish! was founded in 2005 with the mission to deliver divinely crafted birthday cakes and gourmet baked goods to anyone across the United States, wherever they are. BakeMeAWish.com features delicious gourmet dessert options including sumptuous recipes, personalized greeting cards and elegant packaging. 15 years later, Bake Me A Wish! offers a magnificent lineup of other mouthwatering bakery treats including cookies, brownies, cupcakes, and pies. They have expanded their offering even further with gorgeous snack and fruit baskets. Bake Me A Wish! has become the go-to source for people in need of high-quality baked goods, and is excited to help make your gifting dreams come true. Bake Me A Wish! is located in New York, New York and delivers throughout the country.