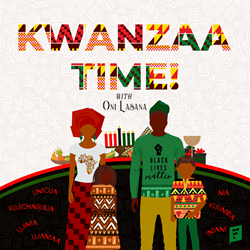 NEWARK, N.J. (PRWEB) December 23, 2020
ABF Creative announced their new podcast series, Kwanzaa Time!, a collective of diverse stories originally passed down through generations, family celebrations, and community gatherings. These 15-minute historic tales told with a new twist, are crafted to entertain the youth while honoring African heritage. The Kwanzaa Time! podcast series puts a modern spin on traditional Kwanzaa stories, intended to assist young people in learning valuable lessons that will live with them forever. Kwanzaa Time! is available on Apple Podcasts, Spotify and wherever you get your podcasts. For more information visit http://abfc.co/kwanzaa
Educating youth 8 years of age and older, Kwanzaa Time! is a cultural experience told through the animated narration of Oni Lasana, better known as Aunti Oni. Between the racial injustices in this country and attacks on the Black Lives Matter Movement, today's African American youth rarely hear relatable stories that amplify tradition and culture within podcasts, and as a result, many stories enriched with tradition go unexplored.
Dr. Maulana Karenga, professor and chairman of Africana Studies at California State University, first created Kwanzaa in 1966 in response to the Watts Riots in Los Angeles. He intended to bring African-Americans together as a community during a time of social unrest. Kwanzaa Time! uplifts these unique perspectives while educating the masses about the importance of Kwanzaa in African American culture.
"Kwanzaa Time! is a good touchpoint where we can refocus, recalibrate, and bring to the forefront traditions that never were lost," comments Executive Producer, Wanda Reynolds. ABF Creative CEO, Anthony Frasier states, "Kwanzaa Time! is a companion of what should all be in our hearts, and to be taught at a young age: love, compassion, and
determination."
In light of COVID-19, Kwanzaa Time! serves as learn-from-home compatible content for parents and educators seeking supplemental educational content. Unsupervised screen time during a time of crisis may be alarming for parents so having approved audio programs children can access on-demand is fundamental.
About ABF Creative:
ABF Creative develops and distributes original and branded podcasts for multicultural and underrepresented audiences. Its mission is to bridge the gap between authenticity, storytelling, and marketing. ABF Creative's current and past podcast partnerships include Audible, Prudential Financial, The GRAMMY Museum Experience, Brooklyn Museum, and Black Entertainment Television. For more information visit https://www.abfc.co/