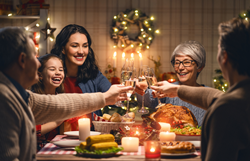 FREMONT, Calif. (PRWEB) December 28, 2018
Family Gathering – Embrace New Year Party in Thai ways
The New Year is a long holiday in Thailand from 31st December to 3rd January. Many people take this opportunity to travel either domestic or abroad. For people who are away from their hometown, it is the time to go home to visit parents and family. Same as the U.S., New year is a great time for family reunion. Sometimes a family wants to enjoy the moment together and we all may not have plenty of time for cooking. That is why a restaurant is the best option for those who want to spend the precious time with their loved ones.
At Le Moose Café we have been hosting family and big party events for years. Our Crepes and Thai foods are great for family style dining. Sharing food while you eat is one of the cultures that create a bond and connection between family members.
Le Moose Café features the fusion food where east meets west. The food served at Le Moose Cafe is a combination between Thai, French, Italian, Thai cuisine and more. The restaurant has been rated for the Top 5 best Thai Restaurant in Fremont by TripAdvisor along with 1,127 stars on Yelp. Le Moose Café has proudly served the Fremont neighborhood for more than 10 years.
About the Team
Every team member was born and raised in Thailand. They have been making and tasting Thai food for many years. The guests can be sure that they will experience the authenticity of Thai flavor in every dish. The team of Le Moose Cafe believes that consistency and superiority are the main reasons that keep coming back. That is why they take quality testing regularly to maintain the level of customer satisfaction.
Le Moose Crepe Cafe is located in Fremont, California at 5014 Mowry Avenue. The restaurant also provides an online reservation click on "RESERVATION" to reserve your table today. They also offer catering for your upcoming corporate and special events. Call our catering number at (407) 969-5464.
Le Moose Cafe opens on Monday-Sunday 11:00 AM- 3:00 PM for lunch and 5:00 PM-9:00 PM for dinner. from now on bookings for holidays and parties are accepted.
Contact info
Restaurant: Le Moose Cafe
Address: 5014 Mowry Ave., Fremont, California.
Phone Restaurant: (510) 745-7288
Phone Catering: (407) 969-5464