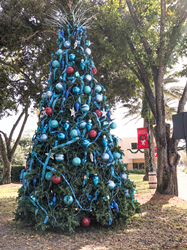 NEW SMYRNA BEACH, Fla. (PRWEB) November 03, 2021
Extend the Thanksgiving holiday with a getaway to one of Florida's top destinations, New Smyrna Beach. The area in East Central Florida is home to beautiful white-sand beaches; a wide variety of outstanding accommodations ranging from oceanfront homes and condos to charming B&Bs; a large number of independent restaurants that will be open for Thanksgiving; holiday shopping and events; and incredible outdoor activities that are enjoyable for families.
New Smyrna Beach will be magically decorated for the holidays and local retailers will be welcoming shoppers over the holiday weekend. In preparation of enjoying all of the holiday's offerings, many will choose to start the day with the NSB Thanksgiving Gobble Wobble, an annual 5K that is returning to Flagler Avenue. The festive and fun race that is suitable for all ages extends along the beach and down the shoreline.
Instead of spending Thanksgiving in the kitchen cooking, enjoy a feast at one of the local restaurants open for the holiday or order takeout and enjoy an outdoor picnic at the beach or a local park. Locally owned Riverside Catering & Market specializes in creating delicious to-go meals and is a great option for takeout and picnic dinners. Many of the most popular restaurants in New Smyrna Beach are open for Thanksgiving, serving a variety of holiday classic fare and delicious seafood in unique surroundings. Options include Norwood's Treehouse Restaurant and Treehouse Bar, The Garlic, Aunt Catfish's on the River, and The Grille at Riverview.
The festivities continue in New Smyrna Beach over the holiday weekend. On Friday, November 26th, the kickoff of Christmas on Canal Street will be held from 5 – 7:30 p.m. The magical family celebration includes a tree lighting ceremony, live entertainment and Santa's grand entrance. Stores and restaurants will have extended hours and Canal Street will be closed to vehicular traffic, allowing pedestrians to stroll along the tree-lined street.
On Saturday, November 27th, the beloved annual holiday event, Coastal Christmas Market, will be held from 9 a.m. until 5 p.m. A wide variety of beautiful, handcrafted holiday items and festive décor will be on display on Canal Street. There will also be live music, demonstrations and culinary offerings.
Holiday shoppers are certain to enjoy the area, with its wide variety of options ranging from The Pavilion at Port Orange, which has large retailers and specialty stores in an open-air, landscaped setting with a pond and trails, to locally owned boutiques on Canal Street and Flagler Avenue.
About the New Smyrna Beach Area
The New Smyrna Beach area includes the communities of New Smyrna Beach, Edgewater, Oak Hill, Osteen and Port Orange in East Central Florida. New Smyrna Beach is an eclectic mix of old and new, of subtle sophistication and bohemian soul. It occupies a notable place in history as the second oldest city in Florida and is the site of the largest single attempt at British colonization in the new world. The city's barrier island is recognized worldwide for its incredible surf with Surfer magazine recently touting it one of the "Best Surf Towns in America" and National Geographic magazine including it in its "World's Top 20 Surf Towns". Natural attractions include 17 miles of sandy beaches from Ponce de Leon Inlet to Canaveral National Seashore and North America's most diverse estuary – the Indian River Lagoon.
Two distinct downtowns along Flagler Avenue and Canal Street and connected via the Waterfront Loop welcome visitors with independent restaurants, unique shops, artisanal coffee shops and art galleries.
For more information, please visit http://www.VisitNSBfl.com or call 386-428-1600. Follow @NewSmyrnaBeach1 on Twitter, Facebook.com/VisitNewSmyrnaBeach or @visitnewsmyrnabeach on Instagram for the latest news. Download the free New Smyrna Beach Mobile App for iPhone and Android to receive this information on-the-go.