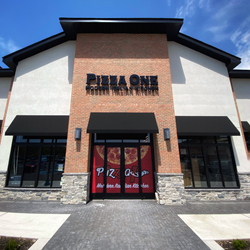 Great pizza especially the specialty slices, the service is also excellent. Best pizza place around!
SPARTA, N.J. (PRWEB) July 08, 2020
Voted Best Pizza in the Tri-County Area, Pizza One brings a unique blend of traditional home-style Italian cooking and modern cuisine together creating delicious meals for everyone to enjoy. The newly opened Sparta location is located in the new Shoprite shopping center. To celebrate, Pizza One will be hosting an outdoor Grand Opening Celebration on July 11th 5pm to 8pm and 12th 4pm to 7pm. The event will feature "The Singing Chef" making Fresh Mozzarella, giveaways, character balloons and $1 for any slice! Bring everyone and come celebrate the opening of the brand new Pizza One! All proper social distancing and safety precautions will be followed.
Pizza One is more than just pizza! Pizza One was established in 2005 as a small takeout pizzeria and has now expanded to three locations with dine in, take out, and free delivery! We are a modern Italian kitchen with many old recipes passed down from our families. Most of our dishes come from southern Italy in Calabria where our parents were born. We have started a brand with Pizza One to offer traditional homestyle Italian cooking with a modern twist. We only use high-quality ingredients to create new recipes that change with the trends. Our passion is seen in our food. Whether you dine in, takeout, or need a party catered, our quality will always leave a lasting impression. From our specialty pizzas to our gourmet salads there is something for everyone to enjoy. We are proud to be a family owned and operated restaurant and we have a strong philosophy.
Putting our customers' needs and concerns above all else. Pizza One is where quality and quantity counts!