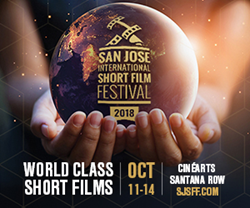 We are incredibly honored to celebrate our 10 Year Anniversary and to bring these World Class Short Films to our amazing audience. Thank you Silicon Valley. Bill Hargreaves Co-Founder
SAN JOSE, Calif. (PRWEB) September 21, 2018
Tickets are now on sale for the 10th Annual San Jose International Short Film Festival (SJSFF), an incredible lineup of more than 130 imagination-stretching short films from across the globe, shown over four days. The films are programmed into over 24 screening blocks plus special events, a testament to the creative range of the featured films. They exemplify excellence in every genre from thought-provoking documentaries and dramatic shorts, to world cinema, comedy shorts, entertaining science fiction/horror selections, beautifully-crafted animation, to family-friendly shorts and more.
As San Jose's only film festival dedicated to short films, SJSFF showcases brilliant filmmaking in the short form – everything from 2 to 30 minutes – with the exploration of intriguing and innovative films. Audiences are invited to select their 'Best of the Fest' with ballots throughout with festival. Award winners presented at the Closing Night on Sunday, October 14th.
Festival organizers cast a wide net in their search for the best short films from around the world, with official selections from Spain, Italy, South Africa, Ireland, New York, LA and more. Filmmakers from across the globe will make the pilgrimage to Silicon Valley to represent their films at this year's festival with spirited Q&A sessions after their films.
Now in its tenth year, SJSFF has attracted worldwide acclaim. Ranked as one of the Top 50 Film Festivals "worth their submission fee" by MovieMaker Magazine, the San Jose International Short Film Festival has returned to deliver World Class Short Films including Academy Award Nominated and BAFTA winning short films, and has become the home to rising independent filmmakers from around the world and an invaluable part of Silicon Valley arts community.
When:
Thursday, October 11th – Opening Night Red Carpet Screening and After Party, 7pm Screening, 9pm After-Party
Friday, October 12th – Noon Until Late Night, Screenings All Day
Saturday, October 13th – 11 AM Until Late Night
Sunday, October 14th – Closing Day Begins at 11 AM Until Mid-Evening, Screening 'Best of the Fest' Winners
Where: CineArts Theater, Santana Row, 3088 Olsen Drive, San Jose, CA
For Tickets and Pricing: http://www.sjsff.com/tickets/
Individual Block and Event Tickets: http://sjsff.com/schedule-at-a-glance/
Contact:
SJSFF Co-Founder, Bill Hargreaves
bill(at)sjsff.com or 408-673-8173
Twitter @SJSFF
Facebook.com/SJSFF