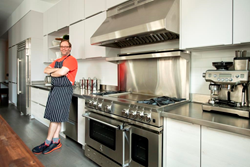 I like things that are thoughtfully built and can handle a lot of action. We put our kitchen through its paces and wanted equipment that could come along for the ride with us. We've made good choices.
BLANDON, Pa. (PRWEB) October 23, 2018
Wylie Dufresne, James Beard award-winning, Michelin-starred chef, advocate of the scientific cooking style known as molecular gastronomy, and more recently, chef and owner of Du's Donuts in Brooklyn, has added a new title to his repertoire—BlueStar® All-Star. Chef Dufresne joins an exclusive group of chefs– including Michael Symon, Alex Raij, Mark Vetri, and Jonathan Benno– who are passionate about achieving restaurant quality results at home with high-performance, customizable BlueStar® appliances, handcrafted in Pennsylvania since 1880.
After recently acquiring his childhood home in Manhattan, the time came for Dufresne to renovate. Since the space held so many memories, the renovation was a true labor of love. He and his wife, Food Network Magazine Editor in Chief Maile Carpenter, knew precisely what they wanted and completely redid the layout of the space to fit their needs, opting for a sleek and open-floor plan that included the kitchen, family room and dining room – perfect for entertaining.
For the award-winning chef, it was all about bringing the most practical elements of a professional kitchen into his home. The kitchen renovation includes stainless steel countertops and a large walnut island for entertaining and food prep. The chef chose restaurant-style appliances from BlueStar® in stainless steel (range and ventilation hood) for a gorgeous, high-functioning kitchen.
"Commercial Grade is my favorite term," said Chef Wylie. "I like things that are thoughtfully built and can handle a lot of action. We put our kitchen through its paces and wanted equipment that could come along for the ride with us. We've made good choices."
The powerful BlueStar® 48" Nova Series gas range and 48" Incline hood were the clear choices for Chef Dufresne's new kitchen. "There's a lot of BTUS in that stove so water boils incredibly fast; the BTUs are unstoppable," said Chef Dufrense. The highly customizable BlueStar® Nova Series range features 22,000 BTU Nova™ Burners and an integrated 24" griddle. While the burners are perfect for a high heat sear, the commercial style griddle gets the most use in the Dufrense household. "I treat the griddle like a French Top; I can use it more efficiently than if I had 6 or 8 burners. I can put all the pancakes for breakfast on there or grill a lot of fruits and vegetables at one time – it's great to lay out things in large numbers," said Chef Dufrense. He also uses a combination of powerful burners to fry and the extra-large ovens to finish his signature French toast.
Ventilation was another important part of the remodel; since they could not vent externally, a recirculating hood was chosen. The recirculating option allowed Chef Dufrense to have pro-style ventilation within building specifications. It was a perfect solution since the right hood is crucial when you have a range with so much power.
Widely known for his ingenious creations at both his New York City restaurants wd~50 and Alder, Chef Dufresne turned his focus to donuts, opening Du's Donuts and Coffee in 2017. Today, Du's Donuts serves up Chef Dufresne's recipes for New England-style cake donuts and crullers in classic and imaginative flavors including brown butter key lime, chocolate caramel brownie, coconut almond, and oatmeal chai. Chef Dufresne is branching out once again, selling his made-from-scratch treats in Whole Foods Market stores in New York City as well as coffee shops around Manhattan and Brooklyn.
BlueStar® handcrafts each product and customizes every detail. Home chefs can order the ranges with any configuration of burners and other cooking surfaces, similar to that of Chef Dufresne, such as built-in griddles, grills and French Tops. The company's new built-in refrigeration line, offering either swing or French Doors, is customizable as well; it is available in stainless steel and more than 750 color and finish combinations to match BlueStar® cooking and ventilation products. To customize a dream range or refrigerator, BlueStar® offers an online interactive "Build Your Own BlueStar" tool.
About Chef Wylie Dufresne
As one of the most recognizable and innovative culinary figures in the world, the James Beard Award-winning, Michelin-starred chef is known as the leading proponent of modernist gastronomy in America. He has been immortalized on The Simpsons when he appeared as a character on the show (he played himself), is a celebrity judge regular on BRAVO's Top Chef, and led highly regarded talks for both TEDx and the MAD Symposium. He has received numerous accolades and acclaim for his landmark restaurant wd~50 and his East Village restaurant Alder. In 2017, Wylie opened his first casual venture, Du's Donuts and Coffee, adjacent to The William Vale Hotel in Williamsburg, Brooklyn. Du's Donuts are available at all New York City Whole Foods Market locations, in addition to select coffee retailers. He debuted his first cookbook, wd~50: The Cookbook(Ecco), October 2017.
About BlueStar
BlueStar® appliances are designed for discerning home chefs who demand restaurant-quality results in their own kitchens. Handcrafted since 1880, the Pennsylvania-based manufacturer specializes in gas ranges, cooktops, electric and gas wall ovens, complementary kitchen ventilation hoods, premium refrigeration, and induction. Available in over 750+ colors and finishes, and with almost infinite configuration possibilities, BlueStar® offers unmatched options for customization. For more information, visit http://www.bluestarcooking.com.