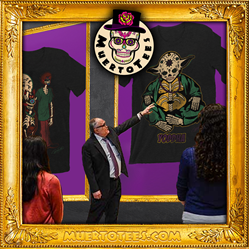 "I aspire to raise t-shirt design to the level of fine art," says artist Jason Sikes.
LOS ANGELES (PRWEB) December 29, 2020
Today, pop artist Jason Sikes launches MuertoTees, a new t-shirt design company with all original designs by Sikes. Designs are influenced by pop characters and images including: Yoda, Scooby Doo, Elvis Presley, Vincent Van Gogh, Georges Méliès, Alice In Wonderland, The Jetsons, Bob's Big Boy, Mr. Potato Head, Mr. T and more.
These colorful, black & white, and some distressed designs, most all feature a Día de los Muertos (Day of the Dead) vibe. All feature a print of his signature, and soon will be available with hand-written signature in limited edition series. All are available through MuertoTees.com and Amazon by searching "MuertoTees."
"I aspire to raise t-shirt design to the level of fine art," says Jason Sikes.
About Jason Sikes:

A celebrated fine artist since 1987.
Sold his work across the United States—and as far away as Kyoto, Japan and Auckland, New Zealand.
Featured in numerous publications and highlighted in the book "High Visibility" by Northwestern University Professor, Irving Rein.
Co-authored the cult favorite book, "Adventures of Pete the Dog" and wrote/played guitar for the tongue-in-cheek rock band, Inner Lizard.
Infamously, has had an art piece of political farce discussed, and debated, on the floor of the United States Senate.
He has worked in acrylic, neon, multimedia, and now is channeling his talent toward transcendent t-shirt design.