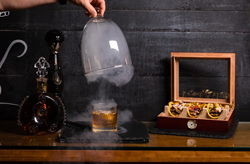 TORONTO (PRWEB) September 06, 2018
The Ritz-Carlton, Toronto is inviting guests to be at the heart of the Festival and experience "Hollywood North" this September during the Toronto International Film Festival. From Californian and Canadian inspired cocktails and menu items, to Red Carpet Ready spa treatments, Hollywood North is an ode to Canada's contributions to the film industry and the celebrity-filled excitement that is TIFF.
Following a year of planning, the hotel will unveil its most extravagant cocktail feature to date: The Nuevo Carre, an experience priced at $1500, available at Ritz Bar or DEQ Terrace & Lounge. A take on the New Orleans classic Vieux Carre (Old Square) the Nuevo Carre (New Square) adopts a Mexican flare, replacing Whiskey with Clase Azul Ultra Tequila. Served in a chilled coupe glass, the Nuevo Carre features house-made bitters, exquisite Louis XIII Cognac and will be presented in a glass dome, smoked using Canadian pecan wood and raw cacao powder. The Nuevo Carre will be accompanied by the "Golden Tacos": an artistic creation featuring three house-made corn tortillas, Wagyu beef, Canadian lobster, Beluga Caviar, guajillo chili salsa, and topped with 24-karat Gold Leaf.
The Ritz-Carlton, Toronto will be the first hotel in North America to serve Black Ivory Coffee, the world's rarest coffee. Launching during the Festival in Ritz Café, the tasting experience serves 2-3 guests, and is priced at $50. Black Ivory Coffee is available exclusively through select five-star hotels globally and is naturally refined by Thai elephants. The result is a very distinctive cup, which lacks bitterness and is delicate, almost tea-like in its complexity. Each purchase of Black Ivory Coffee helps to support The Golden Triangle Asian Elephant Foundation as well as the families who care for the elephants in rural Thailand.
Continuing the Hollywood theme, guests are invited to get Red Carpet Ready with a unique beauty event on September 8th at Spa My Blend by Clarins, and specialty themed treatment packages throughout the month of September. The exclusive event experience includes a targeted beauty consultation, expert makeup application, professional hairstyling, and a special gift with purchase.
Inside TOCA, enjoy a decadent array of seafood with an exclusive Pop-up Seafood Bar, featuring market fresh and raw favourites from Canadian waters. Round out your festival experience with the Hollywood North Chef's Tasting Menu and TOCA's legendary Sunday Brunch Buffet.
Throughout the festival, lobby activations including a Champagne Lobby Bar, over the top chocolate camera display, and custom makeup touch-ups by Clarins will delight guests and capture the spirit of the Festival.
Join us as we kick off the festivities on Thursday, September 6th and share your Festival memories with #RCTIFF.
For more information, please visit http://www.ritzcarlton.com/en/hotels/canada/toronto/hotel-overview/calendar/tiff.html or call 416-585-2500.